7 Foods That Help Prevent Migraine Headaches
Did you know that there are a number of super-foods that can help prevent migraines attacks and make these severe headaches go away faster when they do occur? We combed through both scientific research and anecdotal reports on migraine-fighting and migraine-alleviating foods and nutrients, and here's the result: a list of the 7 best anti-migraine foods!
After reading the article below, be sure to also check out the best diet tips for migraine relief and visit our collection of anti-migraine recipes which features delicious recipes with migraine-preventing ingredients.
#1: Ginger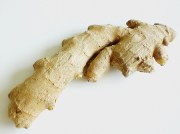 Ginger has pain relieving and anti-inflammatory properties.
Ginger has been enjoyed throughout the ages for its aromatic, pungent flavor and its health promoting properties. In Ayurvedic medicine, ginger has been popularly used as a remedy for headaches, and anecdotal evidence supports the use of ginger to alleviate migraine headaches. However, little scientific research has been done on the topic. Nevertheless, laboratory studies have shown ginger to be able to reduce pain and to act as an anti-inflammatory, which may contribute to the reported migraine-preventing properties of this super-food.
#2: Celery
Naturopaths have long been recommending celery for migraine headaches, and a recent study suggests that luteolin, a plant flavonoid found in abundance in celery, can indeed impede the inflammatory response in brain cells, at least in mice. When buying celery, choose organically grown produce. Together with bell peppers, celery tops the list of vegetables that contain the highest levels of contaminants, including neurotoxic pesticides.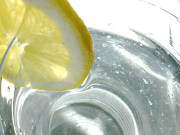 Dehydration can trigger migraine attacks in some people.
#3: Water
Dehydration has been identified as a migraine attack trigger in some people. If you are prone to migraine attacks and headaches, make sure you drink enough water throughout the day. As a general rule, 6-8 glasses of water a day should be sufficient, but if you are physically active your body will require significantly more water. It is also best to stick to water, as many other drinks (e.g. orange juice, red wine, and drinks containing artificial sweeteners) can actually trigger migraines and headaches in general.
#4: Chili
Good news for salsa and chili sauce lovers: chili contains a phytochemical called capsaicin which may, provided that you're not sensitive to chili, alleviate the pain associated with certain headaches. Research has shown capsaicin to reduce the severe pain accompanying migraine headaches, cluster headaches, and sinus headaches. Capsaicin works by inhibiting Substance P., a vasoactive neuropeptide that may promote neurogenic inflammation which in turn may be involved in generating the pain accompanying migraine headaches. In addition to capsaicin, chilies provide a concentrated source of vitamin B2 and magnesium — both of which have a key role in the anti-migraine diet.
#5: Sweet Potatoes
Sweet potatoes are one of the oldest vegetables known to man. They are also highly nutritious and one of the foods that are least likely to cause allergic reactions and migraine attacks. As a bonus, sweet potatoes contain unique root proteins which, according to preliminary studies, have significant antioxidant properties. Sweet potatoes are also typically low in pesticides, even when conventionally grown.
#6: Quinoa
Once called "the gold of the Incas", these hearty and delicious "grains" are actually seeds of a green leafy vegetable that is a relative of spinach and Swiss chard. Quinoa is gluten-free and thus a great choice of "grain" for those whose migraine headaches are triggered by an exposure to gluten. In addition, quinoa is a good source of magnesium which has been shown to reduce headaches. Magnesium's ability to ease migraines is believed to be linked to its role in stabilizing blood vessel walls. The activity of serotonin receptors and other migraine-related receptors and neurotransmitters can also be affected by changes in magnesium levels. In addition, magnesium can improve the quality of sleep, which can further help reduce migraines. Mild deficiencies of magnesium are fairly common in women living in Western countries, where consumption of processed foods is common, as processing significantly decrease the magnesium content of foods.
#7: Sesame Seeds
Some naturopaths recommend sesame seeds for migraines because they contain a combination of nutrients that are thought to help prevent blood vessels spasms that could trigger migraine attacks. Sesame seeds, which are available throughout the year, add a delectable nutty flavor and a slight crunch to many Asian dishes.
Interested in more information on the topic?
For further information on the nutritional approach to preventing and alleviating migraine attacks, please continue to one of the following pages: