Dairy-Free Chocolate Chunk Muffins Featuring Chickpeas
Yield: 18-20 Muffins
These mouthwatering chocolate chunk muffins are completely free of butter and cream, and they provide tons of protein thanks to the chickpeas (also known as garbanzo beans) and eggs they contain. As an added bonus, these dairy-free chocolate muffins deliver valuable omega-3 fatty acids as this recipe calls for two excellent sources of omega-3 fatty acids: walnuts and certified organic omega-3 eggs. Furthermore, the dark chocolate used in this recipe supplies your body with flavonoids, health-protecting compounds with strong antioxidant properties.
Note: Keep in mind that even though these protein-rich muffins are free of butter and cream, they do contain a good amount of sugar and white flour, so only eat them in moderation. They are also not particularly low in calories since chocolate, including dark chocolate, contains a lot of calories.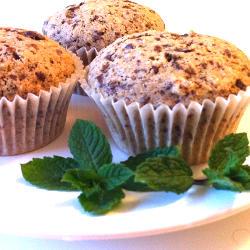 Ingredients
8 walnuts
5.2 oz (147 grams) cooked and drained chickpeas
3 certified organic omega-3 eggs
6.2 oz (175 grams) sugar
2 teaspoons vanilla extract
5.5 oz (155 grams) dark chocolate
1 ½ cups (180 grams) white flour
2 ½ teaspoons (10 grams) baking powder
Directions
Preheat the oven to 350°F or 180°C. Line two 12-hole muffin tins with 20 muffin papers.
Puree the walnuts and the cooked and drained chickpeas in a food processor.
In a medium bowl, beat together the eggs, sugar, vanilla extract, and the walnut and chickpea puree.
Using a high-powered food processor, chop the chocolate.
Sift together the flour, baking powder and chocolate chunks in a small bowl, and add the mixture into the wet batter, gently folding together the wet and dry ingredients until just combined.
Fill the paper-lined muffin cups with the batter (about half full). Bake in the pre-heated oven at 350°F (180°C) for 20 to 25 minutes or until a toothpick comes out clean.
Remove the muffins from the oven and let them cool for 5 minutes before moving them onto a wire rack. Serve cold.