Recipe
Chocolate Sorbet
Serves 4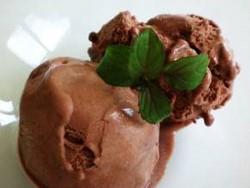 Ingredients
1 cup water
1 cup organic brown sugar
3/4 cup dark cocoa powder
1/8 tsp salt
3 ounces dark dairy-free chocolate, chopped
1 cup rice milk
1/2 tsp vanilla extract
1/8 tsp xanthan gum
Directions
Whisk together water, sugar, cocoa powder, and salt in a small saucepan over medium heat. Bring to a boil, and remove from heat.
Add chocolate and stir until chocolate is dissolved. Stir in rice milk and vanilla extract.
Transfer to a blender and add xanthan gum. Process for about 1 minute.
Pour mixture into an ice cream maker canister and freeze according to the manufacturer's instructions.