Recipe
Curried Carrot Soup
6 servings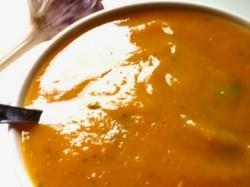 Ingredients
1 Tbsp canola oil
1 large yellow onion, coarsely chopped
1 clove garlic, smashed
2 tsp curry powder
1 1/2 pounds organic carrots, unpeeled but scrubbed, sliced into 1/4-inch thick rounds
1/2 inch piece fresh ginger, peeled and finely chopped
3 cups low-sodium vegetable broth
Directions
Heat oil in a medium saucepan over medium heat. Add garlic and curry powder, and cook about 30 seconds, stirring constantly.
Add carrots, onion, ginger, onion, and broth, and bring to boil over medium high heat. Reduce heat to medium-low, and simmer until carrots are tender (about 20 minutes)
Working in batches, purée soup in a blender or use an immersible hand blender to blend soup until smooth.
Serve hot or cold.