Recipe
Dairy-Free Blueberry Muesli
4 servings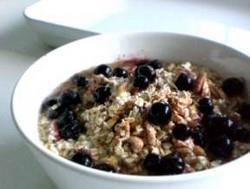 Ingredients
1 1/2 cups rolled oats
1/2 cup walnuts, chopped
1/2 cup dried apples, chopped
2 tsp ground cinnamon
2 cups blueberries (preferably wild)
3 tbsp brown sugar
Apple juice, to serve
Directions
Preheat oven to 325°F (160°C, gas 3).
Mix oats, sugar, and cinnamon in a bowl. Spread mixture evenly onto a non-stick baking tray.
Toast oat mixture in preheated oven for about 10 minutes, stirring occasionally. Watch mixture very closely when toasting as it can burn very easily.
Remove from oven and let cool. Pour into a large bowl and stir in chopped walnuts and dried apples.
Divide mixture into serving bowls and top with blueberries. Serve with apple juice.
Did you know?
Eating blueberries with milk has been shown to block their antioxidant capacity, which is why this muesli is served with apple juice instead of milk. In a recent study, volunteers were given 200 grams (7 ounces) of blueberries with either 200 ml (0.8 cups) of water or 200 ml milk. Those who consumed blueberries with water had a significant increase in their plasma antioxidant capacity. Interestingly, this effect was not found in those volunteers who ingested blueberries with milk. The study authors believe that the ability of milk to impair the antioxidant powers of blueberries may be a result of the affinity of blueberries for milk protein.