Weekly Smoothie Challenge
Flaxy Banana Blueberry Smoothie
2 Servings
This smoothie recipe pairs banana and orange with frozen blueberries to create a refreshing and nutrient-packed smoothie. The nutritional value of this frosty treat is further improved by the addition of ground flaxseed, which is one of the best plant-based sources of omega-3 fatty acids.
The substitute suggestions in the Tweak It! box at the bottom of this page ensure that with small tweaks to the basic recipe, you can create a completely new culinary experience for every day of the week!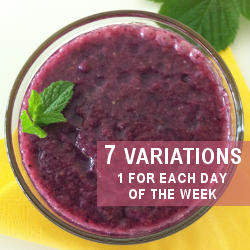 Ingredients
1 banana
1 cup frozen organic blueberries
1 small orange (Day 1)
2 tsp ground flaxseed
3/4 cup water
3/4 cup freshly-pressed orange juice
Directions
Peel the banana and orange, and rinse the blueberries. If you're using another fruit from the Tweak it! box below to replace the orange, peel, pit and rinse the fruit as needed.
Toss all the ingredients into a Vitamix or another high-powered blender. Secure the lid, and blend until smooth and creamy, about 1 minute.
Remove the lid, and check the consistency. If it is too thick, add a little bit of water, replace the lid, and blend a few more seconds.
Pour into glasses, garnish as desired, and serve immediately.
Tweak It!
Day 1
Day 2
Day 3
Day 4
Day 5
Day 6
Day 7
1
orange
6
passion fruits
2
mandarines
1
apple
1
pear
5 oz
papaya
5 oz
fresh pineapple