Healthy and Easy Gazpacho Soup Recipe Including Nutrition Facts
Yield:
about 9 cups
Skill level:
easy
This super healthy gazpacho soup recipe calls for unpeeled tomatoes and cucumber to maximize the health benefits of this cold soup (most of the fiber and vitamins tomatoes and cucumber provide are in their skin). What's more, this healthy gazpacho recipe uses flavonoid-packed red onions as well as wholemeal bread for added fiber and minerals.
Not only is this cold gazpacho soup incredibly healthy, it is also quick and easy to make with this easy-to-follow recipe. Note: This recipe is vegan (provided that you use dairy-free bread) and alcohol-free, and it contains no added sugar.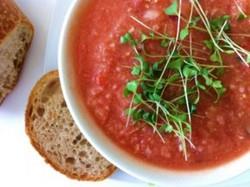 Ingredients
8 medium ripe tomatoes (1 kg)
2 bell peppers
1 medium cucumber
1 medium red onion
2 cloves garlic
2 slices whole-wheat bread
3 Tbsp white balsamic vinegar
1 Tbsp lemon juice
4 Tbsp extra-virgin olive oil
1 tsp salt
1 tsp ground black pepper
Fresh herbs or microgreens for garnish
Directions
Wash and quarter the unpeeled tomatoes and remove the stem bases. Cut the bell peppers and cucumber into large chunks, and roughly chop the red onion and garlic. Tear the wholemeal bread into large chunks.
Put the tomatoes, bell peppers, cucumber, red onion and garlic into a food processor and blend well.
Add the bread chunks and let the soup sit for 20 minutes in order to give the bread time to absorb the liquid and soften.
Add the balsamic vinegar, lemon juice and olive oil to the soup and process the mixture until all the gazpacho ingredients are liquified. If you like your soup thinner, you can also blend in a little cold water.
Season your super healthy cold gazpacho soup with salt and pepper.
Pour the gazpacho soup into a large glass bowl and cover with a plastic wrap or lid. Refrigerate until the flavors blend, preferably overnight.
Serve your gazpacho soup chilled, garnished with your favorite herbs or microgreens. Broccoli microgreens, which are easy to grow indoors any time of the year, make an excellent healthy garnish to cold gazpacho. For more information about broccoli microgreens, read the article How to Grow Broccoli Microgreens Indoors in Containers.
Nutritional Information

Nutrition facts for this healthy gazpacho soup are provided per 100 grams, per recipe (1858 grams), and per serving/bowl (425 grams or 0.9 lb) in the table below. The Percent Daily Values are provided in brackets.
Per 100 g
Per Recipe
Per Serving
Comment
Energy in kcal
61 (3%)
1125 (56%)

257

(13%)
NA
Protein in g
1 (2%)
23 (46%)
5 (10%)
NA
Total Fat in g
3 (5%)
64 (98%)
15 (22%)
NA
Saturated Fat in g
0 (2%)
9 (44%)
2 (10%)
Bread is responsible for most saturated fat in this gazpacho
Carbohydrates in g
7 (2%)
130 (43%)
30 (10%)
NA
Fiber in g
1 (5%)
25 (102%)
6 (23%)
An excellent source of dietary fiber
Sodium in mg
147 (6%)
2725 (114%)
623 (26%)
A significant source of sodium, but also contains plenty of potassium.
Cholesterol in mg
0 (0%)
0 (0%)
0 (0%)
Cholesterol-free
Nutrition facts for recipes on healwithfood.org are primarily based on nutritional data provided by USDA SR-21. Percent Daily Values or %DV, indicated in brackets in the table above, are based on recommendations for a 2,000 calorie reference diet. Your daily values may be different depending on your individual needs.