Recipe
Oat and Buckwheat Muesli with Pears and Grapes (Dairy-Free)
4 servings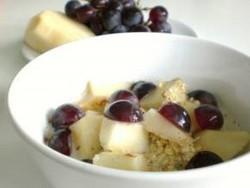 Ingredients
1 1/2 cups rolled oats
1/2 cup puffed buckwheat
1/2 cup dried apples, chopped
2 tsp ground cinnamon
1 cup organic pears, diced
1 cup red grapes, halved
3 tbsp brown sugar
Rice milk to serve
Directions
Preheat oven to 325°F (160°C, gas 3).
Spread oats evenly onto a non-stick baking tray and toast in preheated oven for about 10 minutes, stirring occasionally. Watch oats very closely when toasting as they can burn easily.
Remove from oven and let cool. Pour into a large ceramic or glass bowl and add water. Let soak in a refrigerator overnight.
Add puffed buckwheat, dried apples, cinnamon, and brown sugar to soaked oats. Stir well.
Divide mixture into serving bowls and top with pears and grapes. Serve with rice milk.
Did you know?
Soaking improves the nutritional value of oats as it allows enzymes to break down and neutralize phytic acid, a compound that can block the absorption of many minerals.