Weekly Smoothie Challenge
Grape Juice and Raspberry Smoothie
2 Servings
This healthy smoothie features red grape juice and raspberries, both of which are touted for their antioxidant, anti-cancer and cardioprotective properties. Sunflower seeds – which are loaded with protein, vitamin E, minerals, essential fatty acids and B vitamins – and turmeric powder – which is lauded for its anti-cancer, anti-inflammatory and anti-bacterial qualities – are added to the mix to further boost its healing power.
Tweak It!
To keep things interesting, tweak the recipe by replacing the banana (Day 1) in the basic recipe with one of the other ingredients provided in the Tweak It! box at the bottom of this page (see Days 2 to 7). The Tweak It! box contains seven ingredients, one for each day of the week.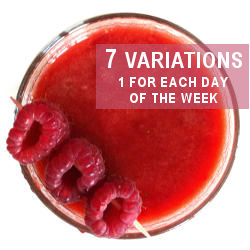 Ingredients
1/2 cup raspberries, rinsed
1 banana, sliced (Day 1*)
1 ½ cups red grape juice
2 Tbsp sunflower seeds
1 tsp turmeric powder
½ cup crushed ice
Directions
Place the raspberries, banana, red grape juice, sunflower seeds, turmeric powder, and crushed ice in a blender (note: if you're using a high-powered blender that can handle whole ice cubes, you can also use eight ice cubes instead of crushed ice if you like).
Secure the lid and blend until smooth.
Pour into glasses and enjoy immediately.
Tweak It!
*Day 1
Day 2
Day 3
Day 4
Day 5
Day 6
Day 7
1
banana
1 cup
blueberries
3
fresh figs
4
apricots
2
nectarines
1
apple
1
pear