Red Cabbage Soup with Black Lentils
Serves 2
Inject extra color – and nutrition – into your life with this dazzling soup! Red cabbage, which gives this soup its intriguing hue, is supercharged with cancer-fighting polyphenols. The other ingredients in this cabbage soup – including broccoli, black beans, garlic and onion – are also well-known for their anti-cancer properties.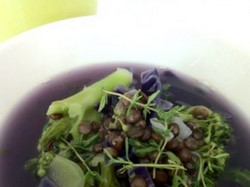 Ingredients
½ cup (96 g) black lentils
2 Tbsp (30 ml) olive oil
2 cloves (6 g) garlic
1 small onion (70 g)
½ red cabbage (420 g), shredded
2 ½ US cups (591 ml) low-sodium vegetable stock
½ broccoli (304 g), coarsely chopped
10 sprigs (5 g) fresh thyme, chopped
Directions
Prepare and cook the lentils according to the instructions on the package. While the lentils are cooking, chop the garlic and onions, and let them sit for 15 minutes to allow them to produce allicin, a health promoting compound that is formed when Allium vegetables such as garlic and onions are chopped.
Heat the olive oil in a large pan and add the garlic, onion, and red cabbage. Cook for a few minutes.
Add the vegetable stock and bring to a boil, then add the broccoli. Reduce heat, and simmer until the broccoli is tender. This generally takes about 8-10 minutes. Turn off the heat and stir in the cooked lentils. Add the thyme and serve immediately.
Nutritional Information

Nutrition facts for this Red Cabbage and Lentil Soup are provided per 100 grams, per recipe (1688 grams), and per portion (½ recipe or 844 grams) in the table below. The Percent Daily Values are provided in brackets. Note: The nutrition data below rely on the assumption that half a cup of dry lentils yields 1 ¼ cups of cooked lentils.
Per 100g
Per Recipe
Per Portion
Comment
Energy in kcal
50 (3%)
848 (42%)

424

(21%)
NA
Protein in g
2 (5%)
38 (76%)
19 (38%)
A good source of protein
Total Fat in g
2 (3%)
31 (48%)
16 (24%)
90% of fat in this soup comes from olive oil
Saturated Fat in g
0 (1%)
4 (21%)
2 (10%)
Low in saturated fat
Carbohydrates in g
7 (2%)
119 (40%)
59 (20%)
Rich in complex carbohydrates
Fiber in g
2 (10%)
41 (163%)
20 (81%)
Excellent source of fiber
Sodium in mg
34 (1%)
578 (24%)
289 (12%)
NA
Cholesterol in mg
0 (0%)
0 (0%)
0 (0%)
Cholesterol free
Nutrition facts for recipes on healwithfood.org are primarily based on nutritional data provided by USDA SR-21. Percent Daily Values or %DV, indicated in brackets in the table above, are based on recommendations for a 2,000 calorie reference diet. Your daily values may be different depending on your individual needs.