Recipe: Roasted Sweet Potatoes
Yield: Serves 4
Sweet potatoes are a true nutritional powerhouse food. They are supercharged with nutrients like potassium, magnesium, manganese, copper, vitamin C, vitamin B6, pantothenic acid, niacin, thiamin and riboflavin. In addition, orange-fleshed sweet potatoes are one of the best food sources of beta-carotene. The thyme this recipe calls for contains health protecting thymol, rosmarinic acid and flavonoids, while basil delivers eugenol and flavonoids. This dish is considered hypoallergenic.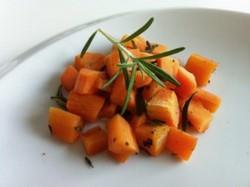 Ingredients
2 pounds (900 grams) sweet potatoes
Salt and freshly ground pepper to taste
1 Tbsp chopped fresh rosemary
1 Tbsp chopped fresh thyme
3 Tbsp extra-virgin olive oil
Thyme and rosemary sprigs for garnish
Directions
Preheat your oven to 425°F (220°C/Gas Mark 7).
Peel the sweet potatoes and cut them into 1 inch (2.5 cm) chunks.
Put the sweet potato chunks in an ovenproof dish. Sprinkle with salt and pepper.
Place the dish in the pre-heated oven and roast for about 15 minutes, then remove the dish from the oven and turn the sweet potatoes over using a large spoon. Mix in the chopped herbs.
Return the dish to the oven and roast for another 10 minutes, or until the sweet potatoes are tender and lightly browned.
Remove the dish from the oven, and mix in the olive oil.
Serve the roasted sweet potatoes straight from the dish or transfer them to a serving plate. Garnish with thyme and rosemary sprigs.
Did you know?
Extra-virgin olive oil loses both flavor and health benefits when it's used in dishes that require cooking at high temperatures. This recipe for roasted sweet potatoes instructs you to add the olive oil at the end of cooking for a burst of flavor and maximum health effects. You could also skip the olive oil in this recipe, but if you want to optimize the absorption of fat-soluble nutrients such as beta-carotene present in this nutrient-packed dish, don't hesitate to use olive oil.