What Are Hypoallergenic Foods? An Overview of Low Allergenicity Foods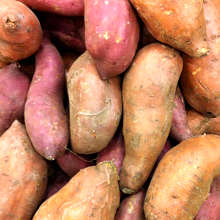 "Hypo" simply means "less", and hypoallergenic foods refer to foods that are least likely to cause allergic reactions in humans. Hypoallergenic foods are also known as low allergenicity foods. These foods are typically recommended as first foods for babies, but they are also used in the so-called elimination diets which are designed to narrow down specific foods that may be causing food allergies.
An elimination diets involves removing any food or substance that is suspected of causing an allergy or intolerance from diet for a period of up to two to four weeks. If, after the elimination period, symptoms have cleared or improved significantly, the suspected foods and substances can be re-introduced to the diet, one food or substance at a time (the so-called "challenge" phase of the elimination diet). During this phase, the dieter systematically goes through all the suspected allergens, one by one, by consuming a suspect food or substance several times a day and then returning to the elimination diet for a few days. If his or her allergic reactions get worse during these days, the dieter may be allergic to the food or chemical that was re-introduced. Although an elimination diet is fairly simple to complete, the whole process can take several months. An alternative way to go about finding out which foods may trigger hives is to have an allergy test performed.
Common Hypoallergenic Foods
Below you find a list of foods that are generally considered hypoallergenic / have a low allergenity rating (i.e. they are less likely to cause allergic reactions than many other foods). The foods are listed by food type.
Note: Any food can cause an allergic reaction, including those listed below, if you are allergic to that food.
Vegetables
Legumes
Fruits and Berries
Grains
Meats
Sweeteners
Asparagus
Beets
Broccoli Brussels sprouts
Cabbage
Carrots
Cauliflower
Cucumber
Fennel
Green beans
Kale
Lettuce
Parsnips
Potatoes
Pumpkin
Rhubarb
Squash
Swedes
Sweet potatoes
Turnips
Zucchini

Lentils
Black beans
Kidney beans
Garbanzo beans
Navy beans
Lima beans
Pinto beans
Green peas

Apples
Apricots
Bananas (that are not treated with ripening chemicals)
Blackcurrants
Blueberries
Figs (cooked)
Melon
Peaches (cooked/canned)
Pears
Plums
Prunes
Redcurrants

Amaranth
Buckwheat
Quinoa
Millet
Rice
Tapioca flour
Teff

Buffalo
Chicken (organic)
Deer
Elk
Frog legs
Lamb
Organic red meat
Rabbit

Maple syrup
Brown rice syrup
Carob

Hypoallergenic Recipes
Interested in delicious dishes that are composed of hypoallergenic foods and that are therefore generally suitable to be included in elimination diets designed to identify food allergens? Then check out the recipes below. You may also want to check out our section dedicated to recipes for fighting allergies, which not only provides recipes with hypoallergenic foods but which also includes recipes that contain foods that proactively fight allergies.
Not for suitable for people with banana/latex allergy
Unlike the majority of pancake recipes, this recipe does not call for eggs, making this dish ideal for people who are allergic to eggs. All key ingredients in this divine dessert—buckwheat, bananas, and brown rice syrup—are considered hypoallergenic and are therefore safe for most (but not all) people with food sensitivities and allergies. See the Recipe
Quinoa is believed to be one of the least allergenic of all grains. Also applesauce is considered hypoallergenic. In addition, applesauce is rich in quercetin—a natural flavonoid that has been shown to provide protection against allergic reactions. Quercetin works its protective magic by stabilizing the cell membranes of mast cells and basophils, thereby preventing them from releasing histamine. See the Recipe

Even if you are allergic to cocoa, you can still enjoy the mellow sweetness and enticing texture of a "chocolate" pudding – as long as it is made with carob, like this one! Carob flour, which is made from the pots of the carob tree, has a sweet, slightly cocoa-like flavor, but is considered hypoallergenic. Also the millet and dates featured in this dessert are unlikely to cause allergic reactions. See the Recipe
Sponsored Links / Ads
Book You May Like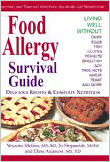 This book covers the A-Zs of living with food allergies, but it is much more than just a guidebook. It is also a vegan cookbook featuring
over 100 vegan recipes free of common allergens such as dairy, eggs, shellfish, nuts, yeast, gluten, soy, and more
. To learn more about this nearly 400-page guide and cookbook, go to
Amazon.com
or
Amazon.co.uk
.