Recipes for Eczema Sufferers
Eager to learn easy recipes for eczema sufferers? In this section of our Diet Guide to Fighting Eczema, you'll find a handful of healthy recipes that are supercharged with some of the best nutrients for eczema suffers.
Note that this is the second page focused on recipes designed to alleviate eczema symptoms. You can view the first recipe page by clicking here.
Oat and Buckwheat Muesli with Pears and Grapes (Dairy-Free)
4 servings
Eating a bowl of this super-nutritious, skin-soothing muesli for breakfast is a superb way to start a day off right. The anti-oxidants in the red grapes featured in this muesli stimulate collagen synthesis and help improve the skin's texture. A must-try recipe for eczema sufferers!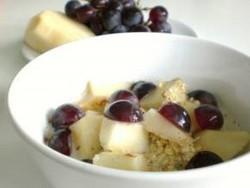 Ingredients
1 1/2 cups rolled oats
1/2 cup puffed buckwheat
1/2 cup dried apples, chopped
2 tsp ground cinnamon
1 cup organic pears, diced
1 cup red grapes, halved
3 tbsp brown sugar
Rice milk to serve
Directions
Preheat oven to 325°F (160°C, gas 3). Spread oats evenly onto a non-stick baking tray and toast in preheated oven for about 10 minutes, stirring occasionally. Watch oats very closely when toasting as they can burn easily. Remove from oven and let cool. Pour into a large ceramic or glass bowl and add water. Let soak in a refrigerator overnight. Add puffed buckwheat, dried apples, cinnamon, and brown sugar to soaked oats. Stir well. Divide mixture into serving bowls and top with pears and grapes. Serve with rice milk.
Raspberry Banana Smoothie
2 servings
This smoothie is literally bursting with antioxidants and anti-inflammatory phytochemicals, including quercetin, one of the best photochemicals for people with eczema. What's more, both the raspberries and the ground flaxseed add anti-inflammatory omega-3 fatty acids to this delectable smoothie.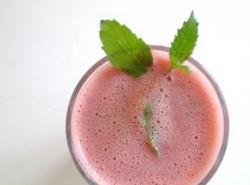 Ingredients
1 cup fresh raspberries
1 ripe banana, sliced and frozen
1 cup rice milk
1 Tbsp flaxseed, freshly ground
Directions
Combine all ingredients in a blender or food processor and process until smooth. Garnish as desired. Serve immediately.
Antioxidant-Rich Asparagus with Quinoa Noodles
Serves 4
Not only is this asparagus dish downright delicious, it also makes an excellent anti-eczema meal as it is loaded with antioxidants. Ingredients
2 bundles asparagus, washed, trimmed, and cut into bite-size pieces
1 tbsp olive oil
3 tsp fresh ginger, minced
2 garlic cloves, slivered
1 tbsp soy sauce
1/2 tbsp sugar
3 1/2 tbsp vegetable stock
12 oz dried quinoa noodles
Directions
Heat oil in a wok and stir-fry ginger and garlic for a minute or two, then add asparagus. Combine soy sauce, sugar, and stock in a small bowl and pour over asparagus. Simmer until asparagus is tender, about 3-5 minutes. Cook noodles according to package directions and serve with stir-fried asparagus.
Chicken and Apple Salad
Serves 4
This anti-eczema recipe pairs meaty chicken with succulent grapes and crunchy apples to create a wonderful culinary sensation. Chicken, apples, and grapes rarely cause allergic reactions, so this salad is also well suited for most people with eczema. In addition, the apples in this salad possess strong antioxidant, anti-histamine, and anti-inflammatory properties which help relieve symptoms associated with a number of inflammatory diseases, including eczema. Ingredients
3 cups cooked chicken, diced
1 cup grapes, halved
1/2 cup celery, diced
3 tbsp red onion, finely chopped
1/2 cup organic apples, diced
6 tbsp extra light mayonnaise
2 tsp lemon juice
Salt and pepper, to taste
Lettuce leaves
Directions
Combine first five ingredients in a large bowl. In a small bowl, combine mayonnaise, lemon juice, and salt and pepper. Stir into chicken mix. Arrange lettuce leaves on serving plates and top with chicken salad. Continue

You may also be interested in checking out the section Diet Tips for People With Eczema: The Best Vitamins and Minerals for Eczema Relief and the section Eczema Help: The Best Foods for People With Eczema. Be also sure to visit the Home Page of HealWithFood.org's Eczema Guide on a regular basis to get the latest news and tips for eczema sufferers!