Cooking for Eczema Sufferers: Anti-Eczema Recipes
If you are interested cooking for eczema sufferers, you have come to the right place! This section of our
Nutrition Guide to Fighting Eczema
provides a selection of recipes that call for some of the best anti-eczema foods.
Romaine and Smoked Salmon Salad
Serves 2
Provided that you are not allergic or sensitive to fish, eating salmon regularly can help control eczema.Salmon provides an excellent source of omega-3 fatty acids which have been shown to reduce the severity of symptoms in eczema patients. Salmon also contains astaxanthin, a carotenoid that gives salmon its pink color and that can act as a potent antioxidant. The romaine lettuce, carrots, and radishes in this salad deliver an abundance of vitamin C and can therefore further strengthen the eczema combating properties of this dish.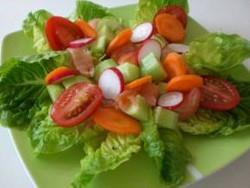 Ingredients
1 small head organic romaine lettuce
5 ounces smoked salmon, thinly sliced
2 tomatoes, diced
4 radishes, thinly sliced
1
organic carrot
, diagonally sliced
1/2 cucumber, peeled and diced
Juice of half a lemon
1 tsp fresh ginger root, peeled and minced
1 tbsp canola oil
Directions
Arrange romaine lettuce on two plates. Top with salmon, tomatoes, radishes, carrots, and cucumber. Shake lemon juice, canola oil, and minced ginger in tightly covered jar. Pour over salad.
Carrot Muffins
Yields 12 muffins
These scrumptious muffins are gluten-free and therefore suitable for people whose skin react to gluten. The carrots and flaxseed featured in these muffins can help combat chronic inflammation which is associated with eczema.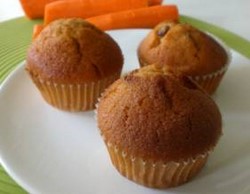 Ingredients
1 egg
1 cup rice milk
4 tbsp canola oil
2 cups quinoa flour or other gluten-free flour
1 tsp guar gum
1 tbsp flaxseed meal
3 1/2 tsp gluten-free baking powder
1/2 tsp salt
1 tsp cinnamon
1/4 cup brown sugar
1 cup organic carrots, grated
1/4 cup raisins
Directions
Preheat oven to 400 degrees F (200 degrees C, gas mark 6)Beat together egg, rice milk, and canola oil. Combine dry ingredients in a separate bowl. Add liquid ingredients to dry ingredients and mix until just blended (do not over-mix). Fold in grated carrots and raisins. Fill 12 paper muffin cups with batter (about two thirds full). Bake for 20 minutes.
Beet and Carrot Salad with Ginger
Serves 1
This recipe pairs two delicious root vegetables to create an excellent natural remedy for eczema. Both carrots and beets are rich in nutrients that help protect the skin. In addition, the ginger featured in this salad has strong anti-inflammatory properties and may therefore be helpful for people suffering from eczema.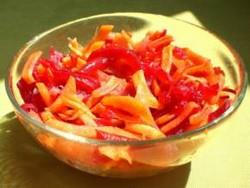 Ingredients
1/2 cup raw beets, peeled and grated
1/2 cup organic carrots, grated
2 tbsp apple juice
1 tbsp extra-virgin olive oil
1/2 tsp fresh ginger, minced
1/8 tsp sea salt
Directions
Combine grated beets and carrots in a small bowl. Mix apple juice, olive oil, ginger, and salt in a separate bowl and drizzle over salad mixture. Toss gently. Enjoy!
Omega-3 Omelet with Red Onions and Capers
3 servings
Provided that your eczema is not linked to an allergy or sensitivity to eggs, this omelet may be of great help. Onions, particularly red onions, as well as capers are among the best natural sources of quercetin. Quercetin is a bioflavonoid that has antioxidant, anti-histamine, and anti-inflammatory properties which help relieve symptoms associated with eczema. Ingredients
4 large omega-3 enriched eggs
1 red onion, chopped
3 tsp capers
2 tbsp extra virgin olive oil
1 1/2 tbsp water
1/4 tsp salt
Directions
Grease a non-stick frying pan with a paper towel dipped in extra-virgin olive oil. Add onion fry until almost golden. Beat eggs, water, and salt together in a small bowl. Add capers to mixture and pour over onions. Cook until egg is just set. Turn omelet over once. Transfer omelet onto a plate. Garnish as desired.
Beet and Carrot Soup
Serves 4
This recipe pairs beets with carrots to create a beautiful crimson soup that is also rich in nutrients that help protect the skin. This recipe also calls for ginger which has been shown to possess strong anti-inflammatory properties and which may therefore help alleviate eczema symptoms.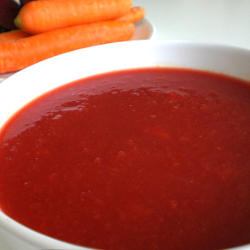 Ingredients
3 medium beets, peeled and diced
1 tbsp canola oil
1 cup onion, chopped
1 pound carrots, diced
1 tbsp fresh ginger, minced
1 garlic clove, minced
1.4 litres (6 U.S. cups)
vegetable stock
Directions
Heat oil in a large saucepan over medium heat. Sauté onion until golden brown. Add ginger and garlic and cook for 2 minutes, stirring frequently. Add beets, carrots, and stock. Reduce heat to low and simmer covered until beets and carrots are tender, about 25 minutes. In a food processor, purée soup in batches. Taste soup and adjust seasonings. Serve hot or cold, garnished with cilantro leaves.
Chocolate-Free "Chocolate Pudding"
Even if your eczema is linked to an allergy or intolerance to chocolate, you can still enjoy the mellow sweetness and rich texture of a "chocolate" pudding—as long as it's made with carob, like this one! Carob flour, made from the pots of the carob tree, boasts a sweet, slightly cocoa-like flavor but is considered hypoallergenic. In addition to carob, this pudding contains millet and dates which are also unlikely allergens.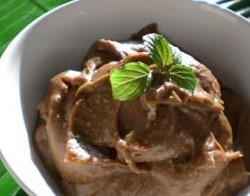 Ingredients
3/4 cup water
1/3 cup dates, chopped
1/8 tsp. salt
1/2 tsp vanilla
2 tbsp carob powder
1 1/3 cups hot cooked millet
Directions
Mix water and dates in a food processor, and process until smooth. Transfer to a saucepan and bring to a boil. Remove from heat, and add rest of ingredients. Blend until smooth. Chill and serve. Continue

Related Content Not to Be Missed:
You may also be interested in exploring our pages dedicated to providing diet tips for eczema sufferers. Be also sure to check out the list of the best anti-eczema foods.