Home Remedies for Eczema: Recipes with Anti-Eczema Foods
There are numerous foods that can be used as home remedies for eczema. In this section of our Guide to Eczema & Nutrition, we take a look at recipes that call for some of the best anti-exzema foods Mother Nature has to offer.
Note: This is the third page focused on anti-eczema recipes. You can view the previous page by clicking here.
Green Pea and Mushroom Risotto
Serves 3
This simple mushroom risotto is an excellent home remedy for eczema as it is packed with eczema-fighting minerals such as zinc. In addition, researchers at the Pennsylvania State Mushroom Research Laboratory found that mushrooms contain significant levels of ergothioneine, an amino acid with strong antioxidant properties. Ingredients
2 Tbsp olive oil
2/4 lb crimini mushrooms, cleaned, stemmed, diced
1 garlic clove, minced
1 yellow onion, finely chopped
1 2/3 cups long grain brown rice, uncooked
4 1/4 cups vegetable broth (allergen-free)
3 tbsp parsley, chopped
1/4 lb frozen peas, thawed
Salt and pepper
Fresh parsley, for garnish (optional)
Directions
Heat 1 tablespoon olive oil in a large saucepan. Add mushrooms and season with salt and pepper. Cook, constantly stirring, for a few minutes until mushrooms soften. Transfer to a plate and set aside. Using same saucepan, heat another 1 tablespoon olive oil, and add minced garlic and onion. Sauté for a few minutes until onions begin to turn translucent. Add rice and cook for a few minutes, constantly stirring. Add half a cup of broth. Cook, stirring occasionally, until almost all broth is absorbed. Add another half a cup of broth each time liquid is absorbed until all broth is used and rice is almost cooked (use water if you run out of broth towards end). Add peas, chopped parsley, and sautéed mushrooms. Cook for a few minutes, constantly stirring. Season with salt and pepper to taste. Transfer to serving plates and garnish with fresh parsley.
Quinoa Crepes with Applesauce
10-12 crepes
Quinoa is considered one of the least allergenic of all grains, which makes it a great grain for people who suffer from eczema. What's more, quinoa boasts zinc which is a natural remedy for eczema. Also applesauce is considered hypoallergenic. Applesauce is also rich in quercetin — a flavonoid that has antioxidant, anti-histamine, and anti-inflammatory properties. Ingredients
1 1/2 quinoa flour
1/2 cup tapioca flour
1 tsp baking soda
1 tsp cinnamon
2 cup carbonated water
3 tbsp canola oil
3 cups unswtnd, organic apple sauce
Cinnamon, to taste
Directions
In a medium bowl, mix together quinoa flour, tapioca flour, baking soda, and cinnamon. Add water and oil and whisk until well combined. Preheat a large nonstick skillet over medium heat. Add a few drops of canola oil. For first crepe, pour about 1/3 cup of batter into skillet, rotating skillet quickly until bottom is evenly coated. Cook crepe on medium high heat until bottom is light brown. Flip over and briefly cook other side. Repeat previous step until batter is gone. Serve with apple sauce.
Apple Slices with Cinnamon
Serves 1
An apple a day keeps eczema away! This dessert is easy to prepare, and it is also a great dessert for eczema patients due to the high concentration of quercetin found in apples. Quercetin is a bioflavonoid that has antioxidant, anti-histamine, and anti-inflammatory properties. Studies suggest that quercetin can help relieve symptoms associated with a number of inflammatory diseases, including eczema.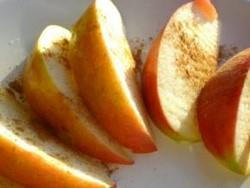 Ingredients
1 medium apple, cored and sliced
1/4 tsp cinnamon, ground
Directions
Place apple slices on a small serving plate. Sprinkle with cinnamon and serve immediately.
Buckwheat Pancakes with Bananas
Serves 2
Unlike most other pancake recipes, this one does not require eggs, making these pancakes ideal for people whose eczema symptoms are linked to an allergy or intolerance to eggs. In fact, all key ingredients in this divine dessert—buckwheat, bananas, and brown rice syrup—are considered hypoallergenic, which means that they are among the foods that are least likely to cause allergic reactions in humans. Ingredients
1 cup buckwheat flour
1 Tbsp brown sugar
2 Tbsp potato starch
1/2 tsp salt
1 tsp baking powder
1 cup rice milk
2 Tbsp canola oil
Vegetable cooking spray, for frying
2 large bananas, sliced
Brown rice syrup, to serve
Directions
Combine dry ingredients in a medium bowl. Add rice milk and canola oil, and whisk until well combined. If batter seems very thick, you may want add a little extra rice milk or water. Preheat a large nonstick skillet over medium heat. Spray with vegetable cooking spray. With a ladle, pour batter to the size you prefer. Even out batter on skillet with back of a spoon. Cook pancake on medium high heat for a few minutes until bubbles appear. Flip over and continue frying until cooked (a properly cooked pancake appears dense and not sticky when cut in the middle). Repeat previous step until batter is gone. Serve pancakes with banana slices and brown rice syrup.
Wholesome Winter Pea and Watercress Soup (Dairy-Free)
6 servings
Watercress, a key ingredient in this light, pleasantly peppery soup, is a true superhero food. It has been used as a home remedy for a wide range ofailments throughout centuries. Hippocrates, who called watercress the 'cure of cures', supposedly located his first hospital close to a stream where he could grow watercress to help treat his patients. The modern herbal medicine recognizes the blood cleansing and anti-inflammatory properties of watercress, and many herbalists expressly recommend these little peppery leaves to alleviate eczema. Ingredients
1 large onion, chopped
1 garlic clove
6 cups vegetable or chicken stock
1 large potato
30 oz frozen peas
3 oz watercress
Salt and pepper, to taste
Directions
Peel and crush garlic and set aside. Leaving crushed or minced garlic for at least 5-10 minutes after crushing helps maximize its health-protective effects. While health-promoting compounds are forming in crushed garlic, peel and dice potato and chop onion. Sweat onion and garlic in 2-3 tablespoons of chicken or vegetable stock. Add potato chunks and pour in rest of stock. Bring to boil and simmer for 15 minutes or until potato is just cooked. Add frozen peas and simmer for 3 minutes. Add watercress and simmer for another minute. Remove from heat and let cool for a few minutes. Process with a hand held blender until smooth. Season with salt and pepper.

You may also be interested in checking out the section Diet Tips for Eczema Relief: The Best Vitamins and Minerals for People with Eczema and the section Eczema Help: The Best Foods for People With Eczema. Be also sure to visit the Home Page of HealWithFood.org's Eczema Guide on a regular basis to get the latest news and tips for eczema sufferers!