Health Benefits of Arugula: From Anti-Cancer Effects to Aphrodisiac Properties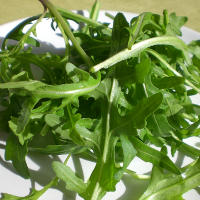 Arugula, or rocket, is the general name attributed to the edible and highly nutritious cultivars of Eruca sativa and Diplotaxis tenufolia. In the Unites States, the term arugula is almost always used to refer to Eruca sativa Mill, which is commonly known as salad rocket or garden rocket in Great Britain. Diplotaxis tenufolia, which is closely related to Eruca sativa both in terms of nutritional value and health benefits, is commonly known as wild arugula or wild rocket.
Both cultivated garden arugula and wild arugula are members of the Brassica (or cruciferous) family of plants, a genus that comprises some of the world's healthiest foods, including the nutritional superstar broccoli and the cancer-fighting superfood kale. Therefore, it is not surprising that also arugula has a wealth of health benefits. Arugula has been shown, for example, to provide phytochemicals with anti-cancer effects, to act as an aphrodisiac and a fertility booster, to exert anti-ulcer activity in animals, and to contain significant levels of cardioprotective nutrients such as vitamins C and K. To get the full scoop on the health benefits of arugula (or salad rocket if you live in the UK), keep reading.
Arugula – The Ultimate Anti-Cancer Salad Green?
One of the most famous health benefits of cruciferous vegetables is their anti-cancer activity. However, there seems to be quite some differences between various cruciferous vegetables in terms of anti-cancer potential. A study funded by Australia's Rural Industries Research and Development Corporation (RIRDC) estimated that arugula greens have more anti-cancer potential than other commonly consumed cruciferous vegetable. In this study, the anti-cancer potential of mature arugula leaves was estimated to be even higher than that of the daikon, radishes, kohlrabi (German turnip), wasabi, garden cress, cabbage, Chinese broccoli, mizuna, komatsuna, or broccoli.
What's more, also arugula sprouts were found to have significant anti-cancer potential, similar to that of mature arugula leaves. However, when it comes to cancer-fighting edible sprouts, radish sprouts and broccoli sprouts appear to be the ultimate champions.
The potential anti-cancer effects of arugula greens and arugula sprouts have been attributed to their high concentration of glucosinolates. When brought into contact with the enzyme myrosinase, glucosinolates turn into isothiocyanates, pungent phytochemicals that have been shown to induce Phase II enzymes (detoxifying enzymes that facilitate the removal of carcinogenic substances from the body) and to stimulate self-destruction of cancer cells.
Health Claims About Arugula's Aphrodisiac Properties Backed by Research
In traditional Arabic medicine, Jarjeer (Arabic for arugula) is considered a strong aphrodisiac, and both the seeds and the tender leaves of the arugula plant have been used to boost sexual desire and performance in Arab countries for centuries.
In recent years, also the scientific community has begun to show interest in arugula's effects on sexual health. A study published in the March 2013 issue of the Journal of Al-Nahrain University found that administration of arugula leaf extracts boosted testosterone levels (indicative of increased sexual desire) and sperm activity (indicative of improved fertility) in mice. These results suggest that the phytochemicals and/or nutrients in arugula may indeed have aphrodisiac and fertility-enhancing properties.
Arugula Has Anti-Ulcer Properties in Rodents, Study Shows
A study published in the April 2009 issue of the World Journal of Gastroenterology found that arugula extract had anti-ulcer activity in rats with experimentally-induced gastric lesions. The researchers believe that the anti-ulcer effects of arugula are linked to its prostaglandin-mediated activity and/or its anti-secretory and antioxidant properties.
However, given the lack of studies investigating the potential anti-ulcer effects of arugula extracts in humans, it is premature to draw conclusions about the potential health benefits of arugula in people with an increased risk of gastric ulcers.
A Powerhouse of Heart Healthy Nutrients
Packed with both vitamin C and vitamin K, arugula may also provide significant health benefits for people who are looking to reduce their risk of heart disease or other cardiovascular illnesses. A study published in the April 2004 edition of the Journal of the American College of Nutrition discovered that people who received a daily Vitamin C supplement showed a 24% drop in their plasma CRP levels after just two months. Experts believe that a person's CRP levels (C-reactive protein levels) may be an even more accurate measure of the person's heart disease risk than cholesterol levels.
Vitamin K, in turn, is believed to boost cardiovascular health by pushing calcium into your bones, instead of directing it into your arteries.
Don't Miss This

Kale or Cabbage - Which One is the Ultimate Winner?
Learn how these two Brassica vegetables compare against each other in terms of variosu attributes.
Related Articles
Book You May Like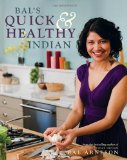 Born in India, Bal Arneson is a bestselling cookbook author and one of Canada's most famous celebrity chefs. In
Bal's Quick and Healthy Indian
, she teaches the reader how to turn classic Indian dishes into low-fat meals, covering everything from salads and soups to rice dishes and desserts. A must-have for anyone who loves the spices and aromas endemic to Indian cuisine, this inspiring collection of health-licious Indian recipes is
available through Amazon
.