Manzano Bananas: Nutrition Facts & Health Benefits
Also known as apple bananas, manzano bananas are packed full of health benefiting nutrients. Manzano bananas are delicious tossed in fruit salads, blended in smoothies, baked in breads, or simply eaten as a healthy snack. They are stocky and shorter than conventional bananas but not as short as the so-called baby bananas. An average manzano is about four inches long and has a pale yellow peel that blackens as the banana ripens.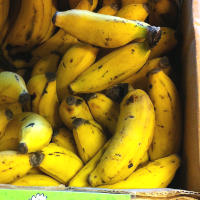 This banana variety is best eaten when its skin is covered with black spots or when its skin has turned almost completely black. Manzano bananas taste sweeter than the conventional Cavendish bananas, and they have touches of apple and strawberry flavors — which is why they are also called apple bananas. If you are interested in learning about the health benefits of manzano bananas, keep reading. The rest of this article provides nutrition facts on manzano bananas as well as an overview of the health benefiting properties of these little nutritional powerhouse fruits.
Like all bananas, manzano bananas are a very good source of potassium, with a 100-gram (107 calories) serving of manzano bananas providing 10% of the daily value for this important nutrient. Increasing the amount of potassium in the diet through foods like manzano bananas may provide protection against hypertension, especially in people who are sensitive to sodium. Hypertension, or high blood pressure, is a common risk factor for stroke, coronary heart disease (CHD), congestive heart failure (CHF), kidney disease, and peripheral arterial disease (PAD). Many of these diseases are among the most common causes of mortality in the United States and other western countries.
Besides delivering plenty of potassium, manzano bananas are an excellent source of vitamin C. In fact, an in-depth nutrient analysis indicates that these little nutritional gems provide more vitamin C than conventional bananas! A 100-gram serving of fresh manzano bananas has been reported to provide 13 milligrams of vitamin C, which corresponds to nearly 23% of the daily value for this essential vitamin! In comparison, a conventional banana provides 15% of the daily value for vitamin C.

Manzano Bananas: Nutrient Profile
Serving Size:
100 grams (3.5 ounces)
Kilocalories (kcal): 107
Protein: 1.0 g
Fat: 0.6 g
Carbohydrates: 24.5 g
Moisture: 73 g
Amount (per 100 g)
Vitamin A Equiv. 14.0 mcg
Vitamin B1 (Thiamin): 0.05 mg
Vitamin B3 (Niacin): 0.70 mg
Vitamin B2 (Riboflavin): 0.04 mg
Vitamin C (Ascorbic Acid): 13.0 mg
Calcium: 8.0 mg
Iron: 1.30 mg
Potassium: 370 mg
Sodium: 1.0 mg
Zinc: 0.20 mg
% Daily Value (per 100 g)
Thiamin: 3.3%
Niacin: 3.0%
Riboflavin: 2.4%
Vitamin C: 22.8%
Calcium: 0.6%
Iron: 7.3%
Potassium: 10.3%
Sodium: 0.0%
Zinc: 2.0%
Note: The above lists of nutrition facts on manzanos (apple bananas) are not complete. Several vitamins and minerals are excluded due to unavailability of data.
Methodology for calculating nutrition facts for manzanos:
The above amounts are based on data provided by FAO/Latinfoods, Tabla de Composición de Alimentos de América Latina, 2002. The Percent Daily Values (% DV) shown were calculated by HealWithFood.org using the Daily Values for Nutrients provided by USDA. The values are based on a 2000 calorie diet. Your daily values may be higher or lower depending on your calorie needs.
Although we strive to make the nutrition data on this website helpful and accurate, we make no representation or warranty of any kind regarding it. HealWithFood.org assumes no responsibility for anyone's use of the information provided on this website.