Simple DIY Face Mask Recipe For Rosacea
Guest Article by Vanessa from BES Skincare
Did you know that around 15 million Americans suffer from rosacea and that a large percentage of them don't even know it? The fact is, most people tend to overlook this condition, thinking that it's probably just dry skin and that it'll go away on its own.
Big mistake, as doing nothing can result in further inflammation, leading to far more severe symptoms.
If you do suffer from rosacea, you need to take action! Whether it be changing your diet over to a more rosacea-friendly one, or cleansing your skin with a healthy face mask (like the one I'll be mentioning) from time to time, the only way you're going to get this condition under control is to actually do something about it.
That's why I'm going to give you guys the recipe for my favorite rosacea fighting face mask to help you take back control over your skin and reduce the frequency of flare ups from now on!
Here's What You'll Need
Most of these ingredients you can pick up from your local supermarket, but for the ones you can't find you should be able to grab at any health food store. Before we get underway with making the mask, I'm quickly going to tell you the connection each of the following foods has with treating rosacea.
Apple Cider Vinegar
Apple cider vinegar is AMAZING for rosacea and here's why: It has an uncanny ability to stabilize the PH of your skin, which when either too acidic or too alkaline in nature can cause irritation in the form of skin conditions such as rosacea.
Natural Yogurt (plain flavor)
It's well understood that one of the causes of this skin condition is a build up of unwanted yeast, i.e. a slight yeast infection. The acidophilus found in natural yogurt can help fight yeast levels, resulting in a reduction in overall symptoms.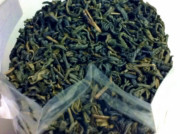 Green tea antioxidants may help reduce inflammation associated with rosacea.
Green Tea
A study was conducted at the University of San Francisco to determine the effects that green tea extract cream has on symptoms of rosacea. Those who used the cream saw a 70% improvement compared to the ones treated using a placebo. It's thought that the antioxidants found in green tea can help remove certain free radicals that can lead to skin inflammation. You can read more on this study here.
Honey
Honey is an amazing antibacterial, which in the case of rosacea can have a drastic positive effect on your skin. It's suspected that one potential cause of rosacea could be a microscopic mite known as demodex folliculorum. Honey may help kill this bacteria in a natural and less intense way than if you were on some steroid-based treatment.
Oatmeal
The purpose of oatmeal in this case is to act as an anti-inflammatory, helping to bring down the redness caused by your rosacea. If you can get it, colloidal oatmeal works best, but you might have some trouble finding it.
Now that we know the purpose of each of the ingredients that are going to make up our face mask, it's time to put it all together!
Making Your DIY Rosacea Face Mask
I'm going to break everything down into nice, easy to follow steps and it should only take about 5 minutes to prepare the recipe.
Step 1
The first thing we're going to do is fill a mug half way up with hot water and place in one green tea bag before setting it aside somewhere for it to brew. We'll come back to it later.
Step 2
The next step is to grab yourself another cup and mix in the following amounts of the remaining ingredients:
Oatmeal: 3 teaspoons
Natural yogurt: 3 teaspoons
Honey: 1.5 teaspoons
Apple cider vinegar: 2 teaspoons
Step 3
Grab the mug of green tea you left to the side. It should have cooled down by now, but if it hasn't, leave it for another 5 minutes until it's at a lukewarm temperature. Once it's cool enough, we're going to throw about 5 teaspoons into the other cup containing the mix before stirring vigorously for about 2 minutes.
Step 4
Once the mix is a milky white color, you can now start to apply it to your face. You can literally just use your fingers and you don't have to rub the mix in; just apply it gently to you face focusing on the areas that are most affected by rosacea.
Once fully applied, leave the mask on your face for about 15 minutes before washing off with lukewarm water. Whatever you do, DON'T USE SOAP!
What You Can Expect
Initially you won't see any dramatic change in your symptoms. Instead you should attempt to apply this mask twice a week for about a month before you can start to see some positive results. If you don't see any major change, up the amount of apple cider vinegar you use to 4 teaspoons.
So there you have it, a simple but effective recipe for a rosacea face mask that you can easily do at home and for next to nothing!
About the Author:
If you want to learn more DIY skin care recipes like this one, or get the latest skin news and reviews, then check out more from Vanessa via her site
http://besskincare.com
.