Blueberry Flaxseed Smoothie
Makes 2 servings
By now, you probably know that flaxseed is one of the best plant-based sources of omega-3 fatty acids, and there are plenty of ways you can incorporate this "super seed" into your diet. One of the easiest and healthiest ways to use flaxseed is to add it to smoothies. Aside from adding omega-3 fatty acids and other nutrients to smoothies, flaxseed also works as a thickener, giving your smoothies a wonderful, rich texture. Simply adding a spoonful of ground flaxseed to the rest of the smoothie ingredients is usually enough to make the drink sufficiently think for most smoothie fans, but if you like your blends extra-thick, soak the ground flaxseed in water for a couple of hours before using it in your recipe. Soaking the seeds creates a thick gel that's perfect for adding body to your drink.
In the following recipe, flaxseed is paired with frozen blueberries, banana and apple to create a thick, luscious vegan smoothie that both your taste buds and your body will love. When blueberries are in season, you can also replace the frozen blueberries with fresh blueberries and some crushed ice. In addition to being super-healthy, this blueberry flaxseed smoothie is also a cinch to make, and all the ingredients are easy to obtain!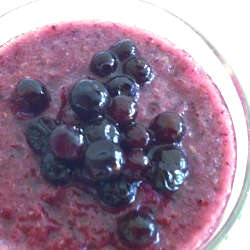 Ingredients
1 ⅔ cups water (approx.)
1 ripe banana
1 organic apple
⅔ cup frozen blueberries
1 Tbsp ground flaxseed
Optional: Fresh or frozen blueberries for garnish
Directions
Add 1 ⅔ cups water to a large-capacity blender. Rinse, peel, core and dice the remaining ingredients as needed, and add them to the blender.
Process until smooth and creamy, turning off the blender and pushing down on the ingredients with a wooden spoon as needed to help the blending process.
Check the consistency. If the smoothie is too thick, add more water, and blend for a few more seconds.
Pour equally into two glasses, and garnish with fresh or frozen blueberries, if desired.
Book You May Like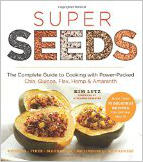 Created by Chicago-based author and vegan food blogger Kim Lutz,
Super Seeds
provides a slew of
mouthwatering recipes featuring five seeds that pack a serious nutritional punch: flax, chia, hemp, quinoa and amaranth
. Whether you're looking for seed-licious vegan or gluten-free recipes for breads, soups, salads, sides, mains or desserts, this is the book to turn to. Taco-Seasoned Quinoa Stuffed Avocados, Hemp Seed Hummus, Blackberry Chia Jam, Amaranth Cornbread and Lemon Basil Quinoa Salad are just a few of the exciting recipes you'll find in this cookbook. To learn more, or to order a copy today, go to

Amazon.com
,

Amazon.co.uk
or

Amazon.ca
.
Sponsored Links / Ads
Product You May Like

Countertop Grain Mills – Your Gateway to Superior Flour
Give your baked goods a flavor and health kick by using flour made in a table top grain mill.