Millet, Banana and Raspberry Smoothie
Makes 2 servings
Supercharged with antioxidants and available year round, frozen berries are the perfect base for nutritious smoothies. Here, we pair frozen raspberries with a sweet banana and nutrient-packed millet to create a healthy frosty concoction that's sure to please your taste buds. Antioxidant-rich acai berry powder is added to this gluten-free, dairy-free smoothie to give it an extra health kick.
Cook's note: Acai powder and other products made from this South American superfood are available at many health food stores, but you can also buy them online. The online retailer Amazon, for example, sells everything from freeze-dried, organic acai berry powder to acai berry juice, puree and capsules here (

for US customers) and here (

for UK customers).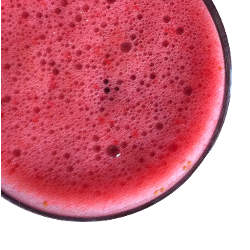 Ingredients
1 ripe banana
1 ½ cups frozen raspberries
¼ cup cooked, cooled millet
1 Tbsp acai powder (buy it here)
About 1 ⅔ cups water
Directions
Peel the banana and rinse the raspberries. Put the banana and raspberries in a high-powered blender along with the remaining ingredients.
Process until smooth and creamy, turning off the blender and pushing down on the ingredients with a spatula as needed to help the blending process.
Check the consistency. If the smoothie seems too thick, add more water and blend for a few more seconds.
Pour into glasses and serve right away.
Book You May Like

In
Gluten-Free & Vegan for the Whole Family
, best-selling cookbook author Jennifer Katzinger serves up a collection of kid-friendly recipes for delicious plant-based dishes that are gluten-free, dairy-free, egg-free, and mostly soy-free. With chapters on Breakfast, Lunch, Snacks, Soups, Vegetables & Salads, Dinners, and Sweets & Treats, there's something here for any time of the day. To learn more,
click here
.
Sponsored Links / Ads