Banana Elderberry Muffins (Gluten-Free)
Makes about 8 muffins
Not overly sweet, these low glycemic, gluten-free muffins are perfect for breakfast, or whenever you have a hankering for a lightly-sweetened treat. Dried elderberries, the star of these muffins, are often touted as a superfood thanks to their exceptionally high antioxidant content, but these health-licious also contain a number of other nutrient-dense ingredients such as ground unblanched almonds and omega-3 rich walnuts.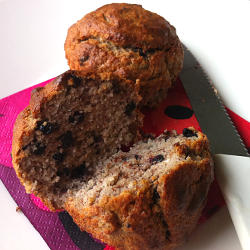 What's more, these muffins only contain low glycemic, natural sweeteners: mashed overripe bananas, Manuka honey and cinnamon. It is important that you use overripe, spotty bananas as they are much sweeter and more flavorful than their unripe and ripe counterparts. In addition to adding sweetness, the overripe bananas – together with the eggs used in this recipe – also help bind the batter. Overripe bananas are also easier to digest than unripe bananas – yet another reason to go for overripe, spotty bananas!
Not only have these Banana Elderberry Muffins been sweetened with all-natural ingredients, they are also free from chemical leavening agents such as baking powder. Yet, they somehow manage to be moist and fluffy! The secret lies in separating the eggs and turning the egg whites into an airy foam, before gently folding the whipped egg whites into the batter.
Tip: Before whipping the egg whites, make sure the bowl is completely clean and dry – even a drop of liquid or egg yolk can interfere with the process of creating air bubbles in the egg whites.
Ingredients
3 eggs
2 ounces (55 grams) walnuts
2 overripe bananas, peeled and mashed
7 ounces (200 grams) unblanched almond meal
2 ½ ounces (70 grams) dried elderberries*
2 Tbsp coconut oil
1 ½ Tbsp Manuka honey*
1 tsp cinnamon
Directions
Separate the egg whites and yolks and set aside. Roughly chop the walnuts.
Using a fork, combine the egg yolks, chopped walnuts, mashed bananas, almond meal, dried elderberries, coconut oil, Manuka honey and cinnamon in a medium bowl.
Using a mixer, whisk the egg whites on high until soft, white peaks that hold their shape form. Then, gently fold the egg white foam into the muffin batter using a rubber spatula.
When you are done folding the egg white foam and batter together, spoon the mixture into into a muffin tin lined with paper liners. Bake in a pre-heated oven at 350°F (Gas Mark 4, or 175°C) for about 25 to 35 minutes. You can test the muffins for doneness with a toothpick: if a toothpick inserted in the center of a muffin comes out clean, your Banana Elderberry Muffins are done!
Serve warm or at room temperature.
*Ingredient Finder
This muffin recipe calls for one or more ingredients that may be difficult to find at regular grocery stores. If you have trouble finding them in the stores in your area, you can always order them online:
Dried whole elderberries


Buy them on Amazon.com

Buy them on Amazon.co.uk

Manuka honey


Buy it on Amazon.com

Buy it on Amazon.co.uk
Note: By purchasing ingredients through the affiliate links provided in this section you can help keep HealWithFood.org up and running as HealWithFood.org may receive a small commission for purchases made through these links (of course without any extra cost on your part).
Book You May Like

Looking for a
cookbook dedicated to coconut flour recipes
? In
The Healthy Coconut Flour Cookbook
, recipe developer Erica Kerwien delivers more than 100 healthy gluten-free recipes for scrumptious muffins, breads, cakes, cookies, savory bites and more. To accommodate people on special diets, this cookbook also includes an icon guide to help you identify recipes that are Paleo-friendly, grain-free, gluten-free, dairy-free, nut-free and low-sugar. Available from
Amazon.com
,
Amazon.co.uk
and
Amazon.ca
.
Sponsored Links / Ads