Personal Vacuum Blenders: Why You Need One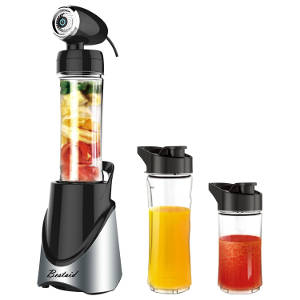 Vacuum blending is all the rage right now, but unfortunately full-size vacuum blenders can take quite a bit of space in the kitchen, and they are not cheap, either. Now, that's where personal vacuum blenders come in! With a personal vacuum blender, you'll be able to create nutrient-dense smoothies, without losing much countertop or storage space, or paying a fortune. What's more, the best personal vacuum blenders allow you to not only blend but also to store your drinks in a vacuum, which means your drinks will stay fresh for longer.
In this article, we first take a detailed look at the benefits of vacuum blending. Increasingly popular among health-conscious foodies, vacuum blending involves removing excess air from the blender container before the ingredients are mixed, which means oxidation of the mixture is minimized. In order to help you to decide whether you should get a personal vacuum blender, the second part of this article discusses the advantages of personal blenders over full-size countertop blenders.
Why Get a Vacuum Blender
1. No loss of nutrients due to oxidation. With vacuum blending, oxidation of ingredients is greatly reduced, which means the fragile enzymes, antioxidants and nutrients that keep you healthy remain largely intact. For many people, the ability of vacuum blenders to preserve nutrients is their biggest advantage over regular blenders.
2. Vivid colors and fresh flavor. The lack of air in the container during the mixing process also helps keep the colors as they are and protect the taste of fresh ingredients. This means smoothies created in a vacuum blender will also look and taste good. The best personal vacuum blenders allow you to also store your smoothies in a vacuum, which means your drinks will also stay fresh for longer.
3. Great texture, no separation of ingredients. Vacuum blenders also create smooth textures, without turning things foamy, plus they help prevent the liquid from separating from the other components after the blending process. It is worth noting, however, that the texture of a smoothie created in a small personal vacuum blender may not quite match the consistency of a smoothie created in a large (and expensive) high-speed vacuum blender such as the Tribest Dynapro.
Why Get a Personal Blender
1. One container, many functions. With a personal blender, your smoothies will be mixed, served and stored in a single container. That means you won't have to pour your drink from the blender container into a jug or glasses for serving, or into bottles for storage! And all of that, of course, means less waste, less dishwashing and less hassle.
2. Space-saving design. With a small footprint, personal blenders occupy limited countertop space in the kitchen. They also don't require much room for storage. Full-size countertop blenders, by contrast, can take a lot of space on the countertop, plus it may be difficult to fit them into standard kitchen cabinets for storage.
3. Price. Last but not least, personal or single-serve blenders are typically much cheaper than full-size countertop blenders. Even if you decide to get a personal vacuum blender, which is one of the best kinds of personal blenders you can buy, it will hardly break the bank. To learn how much it costs to buy a personal vacuum blender on Amazon, click here.
The Bottom Line
If you've been thinking about getting a single-serve blender, you definitely should consider buying a personal vacuum blender. For all the reasons listed in this article, personal vacuum blenders are among the best blenders in the single-serve blender category. You can try to find a personal vacuum blender in the brick-and-mortar stores in your area, or you can buy one on Amazon.

* * *