Ratios for Converting Fresh Herbs to Dried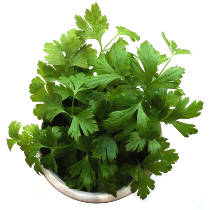 Have you ever wondered how to substitute dried herbs for fresh herbs in recipes? What are the conversion ratios you should use when replacing dried herbs with their fresh counterparts, and vice versa?
The purpose of this article is to provide useful tips for all those who are interested in learning how to convert fresh herbs to dried herbs and spices. At the end of the article, you will find an extensive chart showing the conversion ratios for some of the most common kitchen herbs including thyme, basil, rosemary, garlic, bay leaves, tarragon, ginger, parsley, cilantro and onions.
The Rule of Thumb
Most healthy recipes you find in cookbooks and on the internet will require that you use some herbs, both for culinary and health reasons. Each recipe will usually specify whether you should use fresh herbs (measurements typically shown in spoons or sprigs) or dried herbs. Some recipes that call for fresh herbs also specify the equivalent dry amounts, in which case substituting dried herbs for fresh becomes a piece of cake. However, the vast majority of recipes don't do that, and you will have to figure out the corresponding quantities yourself. The chart included later in this article can help you determine the ideal amounts for common kitchen herbs such as rosemary, garlic and basil, but if you cannot check back when you are cooking, the following rule of thumb may be useful:
3 portions of fresh herb = 1 portion of dried herb
If you are using U.S. spoons, one tablespoon of chopped fresh herbs will equal approximately one teaspoon of dried herbs.
When Not to Substitute Dried for Fresh Herbs
In most cases, you can successfully substitute dried herbs in recipes that call for fresh herbs. However, there are some exceptions. If a fresh herb is a focal point of the dish, then it is usually not OK to use the dried version. For example pesto, which requires large amounts of fresh basil leaves, cannot be made with dried basil.
In addition, there are certain herbs that are not well suited for use as dried herbs in cooking. For example, chefs and other foodies generally agree that it is best not to substitute dried dill, curly parsley, flat-leaf parsley, chervil or chives for their fresh counterparts as the flavor of the fresh produce is far superior in these cases.
Use the dehydrated versions of these herbs as seasonings only if you really cannot get the fresh herb and cannot think of an alternative herb that you could use as a substitute in your recipe.
Use the conversion ratios shown in the table below as a general guideline when substituting dried herbs for fresh herbs, or vice versa. Be aware, however, that the ideal ratios may be impacted by a number of factors. The ideal substitution amounts can vary drastically depending on what the remaining shelf life of your dried herb is and how long the packet has been open. Furthermore, there are often significant differences between different brands. Therefore, when seasoning a dish, it is important to use your taste buds and adjust the amounts when necessary.
| Herb | Amount of Fresh Herb | Equiv. Quantity of Dried Herb |
| --- | --- | --- |
| Basil | 2 tsp finely chopped basil (about 5 leaves) | 1 tsp dried basil |
| Bay leaves | 1 fresh leaf | 2 dried leaves |
| Chervil | 3 tsp fresh cilantro | 1 tsp dried cilantro |
| Chives | 1 Tbsp finely chopped fresh chives | 1 tsp freeze-dried chives |
| Cilantro | 3 tsp fresh cilantro | 1 tsp dried cilantro |
| Dill | 3 tsp fresh dill | 1 tsp dried dill |
| Garlic | 1 clove | 1/2 tsp garlic powder |
| Gingerroot | 1 tsp grated fresh ginger | 1/4 tsp dry ground ginger |
| Marjoram | 3 tsp fresh marjoram | 1 tsp dried marjoram |
| Onions | 1 medium onion | 1 tsp onion powder |
| Oregano | 1 Tbsp fresh oregano | 1 tsp dried oregano |
| Parsley | 2 tsp finely chopped parsley (or 3 sprigs) | 1 tsp dried parsley |
| Rosemary | 1 Tbsp fresh rosemary (or 1 small/medium sprig) | 1 tsp dried rosemary |
| Sage | 7 leaves (or 2 tsp minced fresh sage) | 1 tsp dried sage |
| Tarragon | 3 tsp fresh tarragon | 1 tsp dried tarragon |
| Thyme | 1 Tbsp fresh thyme (or 6 sprigs) | 3/4 tsp ground thyme |
Sponsored Links / Ads
Don't Miss This

Health Benefits of Different Teas & Herbal Infusions
Learn here which teas and herbal infusions best support your health goals.
Related Articles