Substituting Dried Parsley Flakes for Fresh Parsley in Recipes
Can you use dried parsley flakes as a substitute for fresh parsley? Most chefs and culinary experts agree that it is best not to substitute dried parsley for fresh parsley as the flavor of this common kitchen herb changes quite significantly when it is dried.
Fortunately, most large grocery stores sell fresh parsley year-round, and you can also grow your own parsley microgreens at home, even in winter (for more information, check out the article How to Grow Parsley Microgreens Indoors).
However, in case of an emergency, you can of course resort to dried parsley provided that you use the appropriate "fresh to dried parsley" conversion ratio. To substitute dried parsley flakes for chopped fresh parsley, use the following conversion ratio as a general guideline:
2 teaspoons finely chopped fresh parsley equal 1 teaspoon of dried parsley
As mentioned earlier, it is best not to substitute dried parsley for its fresh counterpart if you are able to source some fresh parsley sprigs. In case fresh parsley is simply not available and you are hesitant to use parsley flakes as a substitute, consider using fresh chervil, celery microgreens or cilantro as a substitute. All of these herbs are related to parsley and can be succesfully used as a substitute for fresh parsley in many recipes.
Don't Miss This

Best Heavy-Duty Vegetable Dicers and Choppers
A review of top-of-the-line vegetable dicers that make chopping vegetables a breeze.
More to Explore
Book You May Like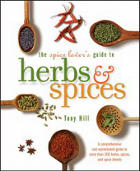 Do spices and herbs mostly lie dormant in your spice cabinet? Break the cycle of bland, boring meals and embark on a culinary advernture with The Spice Lover's Guide to Herbs and Spices! In this acclaimed book, the spice expert Tony Hill profiles more than 125 herbs and spices, ranging from the familiar to the exotic. He also provides more than 75 recipes to tempt your taste buds, plus instructions on how to prepare some of his most famous signature herb and spice blends, including barbecue rubs, curry blends, chili powders, mulling spices and chai mixes. Available from Amazon.