Freezing Turmeric Root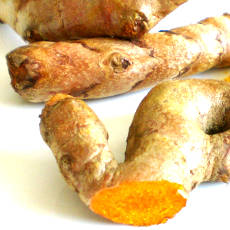 If you like to cook with fresh turmeric root rather than turmeric powder, it may be a good idea to buy a few extra knobs next time you go to a supermarket that sells fresh turmeric root, and freeze the knobs for later use. Fresh turmeric root freezes surprisingly well, and freezing is one of the easiest ways to preserve this knobbly root that foodies around the world are praising for its amazing health benefits. Read on to learn how to successfully freeze fresh turmeric root.
How to Freeze Fresh Turmeric Root
Turmeric root does not need to be blanched before freezing. It is also not necessary to peel it, though some people prefer to peel it. The easiest way to freeze fresh turmeric root is to scrub the knobs to remove any dirt, and then freeze the knobs whole in freezer-safe bags that have as little air inside as possible. When you are ready to use your frozen turmeric, simply take one knob out of the freezer, and use a microplane grater to grate the frozen turmeric root, skin and all. Integrate the fine gratings into whatever it is that you are cooking.
Why Everybody Should Consider Freezing Fresh Turmeric
The benefits of freezing fresh turmeric are similar to the benefits of freezing fresh ginger root. First, you may find it easier to grate frozen turmeric root than its fresh counterpart. Second, storing turmeric in the freezer, rather than the refrigerator, keeps it from drying out, and you do not have to use whole turmeric root all at once. Just pull your frozen turmeric out of the freezer when a recipe calls for grated turmeric, quickly grate what you need without allowing the knob to thaw, and pop the unused portion back into the freezer. And finally, by making it a habit to regularly buy and freeze fresh turmeric root you will always have this wonderful spice at-the-ready, whenever you need it, and you won't have to resort to poor turmeric alternatives!
Sponsored Links / Ads
Don't Miss This

How to Make Turmeric Tea for Arthritis Sufferers
Learn how to make anti-arthritis tea featuring turmeric (or where to buy pre-made blends).
More to Explore