List of Foods to Eat if You Have PCOS (Cont'd)

From licorice root and sunflower seeds to kale and tuna, there are many healthy foods that can help prevent and cure PCOS. The list below includes some of the very best foods for PCOS sufferers. Be sure to add these wonderful PCOS-healing foods to your grocery list before your next trip to the supermarket!
Note that this is the second page of a two-page article on foods that can help cure PCOS naturally. If you missed the first page of the article, click here.
#9: Sunflower Seeds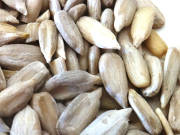 Sunflower seeds provide a slew of PCOS-fighting nutrients.
If you read the Nutrition Facts label on a bag of sunflower seeds, you will learn that they are very calorie-dense. But that should not be a reason to shy away from them. Although it is true that sunflower seeds are rich in calories, consuming these mild nutty seeds in moderation can offer great health benefits. Sunflower seeds are cram-full of nutrients that help fight symptoms associated with PCOS. They pack vitamin B2 (riboflavin) and vitamin B6 (pyridoxine), a stellar nutrient combo for fighting PCOS symptoms. A mere cup of sunflower seeds provides 31% of the recommended daily intake for vitamin B6. In addition to B complex vitamins, sunflower seeds are loaded with zinc and magnesium, two important of anti-PCOS minerals.
#10: Kale
One of the most interesting health benefits of kale is its broad nutritional profile. This nutritional heavyweight is loaded with a wide range of vitamins, and it is one of the best plant-based sources of calcium. Calcium is important for women with PCOS as it plays an important role in egg maturation and follicle development in the ovaries. The tender young leaves of kale can be eaten raw, for example as a substitute for iceberg lettuce in salads. This beautiful, green leafy vegetable can also be transformed into a hearty warm dish by sautéing the leaves and mixing them with chopped onions, crushed garlic and a little bit of extra virgin olive oil. When buying kale, it is advisable to choose organically grown produce whenever possible. According to research, conventionally grown kale is among the most contaminated vegetables in terms of pesticide and chemical content.
#11: Chicken Breast
If you are concerned about PCOS and excess weight, chicken breast is a good food to add to your shopping list. Skinless chicken breast packs a protein punch but has a very low fat and carbohydrate content. It is also a good source of B vitamins such as vitamin B3 and vitamin B6. Vitamin B3 may be particularly helpful to those whose expanding waistline is linked to insulin resistance. Vitamin B6 plays a critical role in maintaining hormonal balance and fertility. It is also needed for proper absorption of zinc in the intestines.
#12: Sesame Seeds
Sesame seeds are loaded with nutrients that are known to be particularly beneficial for women with PCOS. These little seeds are a great source of vitamin B6, with half a cup providing more than a quarter of the recommended daily intake for this vitamin. Furthermore, they are an excellent source of plant-based calcium, magnesium and certain healthful fatty acids. On top of that, they provide a very good source of zinc. Sesame seeds, which are available throughout the year, add a delectable nutty flavor and a slight crunch to many Asian dishes.
#13: Licorice Root
Glycyrrhizin in licorice root has been shown to significantly reduce plasma testosterone, which is good news for PCOS patients with elevated testosterone levels, acne, or hirsutism. Researchers in Italy gave healthy women between 22 and 26 years of age licorice containing 120 mg of glycyrrhizin daily for two menstrual cycles. At the beginning of the trial, the average plasma testosterone stood at 27.8 ng/dL. After the first cycle, it had dropped to 19 ng/dL and after the second cycle to 17.5 ng/dL. After the trial period the testosterone levels of the test subjects rapidly returned to the pre-treatment values. It appears that glycyrrhizin inhibits an enzyme required for the production of testosterone. If you intend to consume licorice in an effort to keep PCOS under control, keep in mind that frequent consumption of large quantities of licorice may cause high blood pressure, edema, depletion of potassium, headache, heart problems, and other health complications.
#14: Poppy Seeds
Sprinkle poppy seeds on top of your favorite dish. The nutritional profile of these little seeds provides a multitude of health benefits, including a decreased risk of PCOS symptoms. Despite their small size, poppy seeds are packed with calcium, magnesium, B vitamins, and zinc — all of which play a crucial role in preventing and treating PCOS symptoms.
#15: Tuna
Tuna is an excellent addition to the diets of overweight women who wish fight PCOS by losing excess weight. Each can of water-packed tuna contains about 33 grams of protein and no fat or carbohydrates. In comparison to fat and carbohydrates, protein has a very high thermogenic effect (20-30 percent), which means that the body burns a significant share of the calories provided by a protein-rich food, such as tuna, in the process of breaking down and digesting the food. Furthermore, tuna contains B vitamins and vitamin D which are important for women with PCOS. However, when adding tuna to the diet it is important keep it in moderation. Too frequent/high a consumption of tuna and other fish may predispose you to an excessive exposure to certain toxins, such as mercury. Many experts recommend eating only six servings or less of tuna (canned Chunk Light) and other similar fish per month (canned White Albacore should be consumed even less frequently). Especially pregnant and breastfeeding women as well as women who intend to become pregnant should be particularly careful because toxins in fish can be extremely harmful to fetuses and newborn babies.
Also in This PCOS Guide
For more information on how to fight symptoms associated with PCOS through dietary modification, check out our
diet tips for beating PCOS
as well as our collection of the
best anti-PCOS recipes
featuring some of the best PCOS-fighting foods.
Books You May Like

In this
science-based diet guide
, registered dietitian Hillary Wright introduces a holistic PCOS management system she has developed by working with hundreds of patients. In addition to outlining a meal plan designed to influence your reproductive hormones, she gives tips on what exercise, stress relief methods, and supplements will work best to beat PCOS. Available from Amazon
here
(US residents) or
here
(UK residents).

In this
practical and comprehensive guide to PCOS
, nationally known PCOS expert Angela Grassi, MS, RD, LDN, provides step-by-step guidelines, questionnaires, and exercises that can help you balance your hormones, improve your fertility, and lose weight. Available from Amazon
here
(US residents) or
here
(UK residents).

In this popular and now completely updated diet book, weight loss expert Cheryle R. Hart, M.D., and registered dietitian Mary Kay Grossman explain you
how you can control insulin resistance and lose weight
without sacrificing all of your favorite foods. Available from Amazon
here
(US residents) or
here
(UK residents).

PCOS for Dummies is an invaluable
reference book for those who've been newly diagnosed with PCOS
. Written in plain-English, this non-intimidating guide book covers everything from the causes and symptoms of PCOS to available treatments. Available from Amazon
here
(US residents) or
here
(UK residents).