Sweet Potato, Coconut Milk ad Vanilla Smoothie
Makes 2 servings
Chances are you already know that along with carrots, sweet potatoes are among the best dietary sources of beta-carotene, making them an excellent choice for people who are looking to increase their intake of this vital nutrient. But coming up with new ideas on how to use sweet potatoes is not always easy. If you have trouble finding ways to incorporate more sweet potatoes into your diet, take note: cooked and chilled sweet potatoes make an excellent base for homemade smoothies as they provide creaminess and sweetness without adding too many calories.
In this smoothie, orange-fleshed sweet potatoes combine perfectly with coconut milk, vanilla powder and cardamom to create a luscious concoction that is packed with tons of nutrition and delicious flavor. A ripe banana is added to the mix for extra sweetness.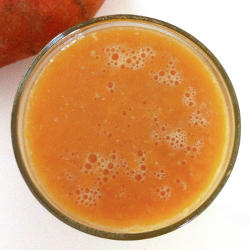 Ingredients
1 ⅔ cups coconut milk
1 ripe banana
1 small sweet potato, cooked & chilled
1 ½ tsp real vanilla powder*
1 ½ tsp cardamom
8 ice cubes
*If you have trouble finding pure vanilla powder at regular grocery stores, you can always buy it online through Amazon.
Directions
Add the coconut milk to a high-powered blender, followed by the remaining ingredients.
Close the lid, and process in short bursts until the ice cubes have been thoroughly crushed. Continue to blender until smooth, turning off the blender and pushing down on the ingredients with a rubber spatula as needed. Drink right away!
Don't Miss This

Best Vegetarian Cookbooks for Meat-Loving Home Cooks
Going vegan or vegetarian? With these cookbooks you won't miss the meat!
More from HealWithFood.org
Book You May Like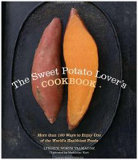 Presenting more than 100 ways to eat sweet potatoes, this 240-page cookbook is the
definitive guide to cooking and baking with sweet potatoes.
Covering everything from appetizers, soups, salads and breads to breakfasts, main dishes, sides and desserts, this extensive compilation of sweet potato recipes is a real treasure trove for anyone looking to incorporate this unassuming healthy tuber into his or her diet. Order this gem of a book though Amazon
here
(

US residents) or
here
(

Canadian residents). It is also available through Amazon's UK site
here

, but be aware that the recipes use American measurements.