How to Make a Healthy Smoothie with Frozen Blueberries
The Internet is full of healthy smoothie recipes that call for frozen blueberries, and there are several reasons why frozen blueberries are a great ingredient for smoothies: Not only do they make smoothies cold and refreshing without the use of ice cubes, and they also add irresistible berry flavor to your drinks. What's more, frozen blueberries are healthy just like their fresh counterparts, providing tons of vitamin C, vitamin K and phytochemicals with antioxidant properties. Below, we provide step-by-step instructions on how to freeze blueberries for later use in smoothies. This article also contains a basic recipe for a healthy frozen blueberry smoothie which you can customize to suit your preferences.
How to Freeze Blueberries for Late Use in Smoothies
Put the blueberries in freezer-safe bags or containers (glass freezer containers and freezer-safe mason jars are great if you don't like plastic).
Remove as much air as possible from the bags or containers, and seal and label them.
Pop the bags or containers into the freezer, and freeze for up to 6 months. Wash the frozen berries before using them in your smoothies.
Basic Recipe for a Dairy-Free Smoothie with Frozen Blueberries
Makes 2 servings—In this healthy vegan smoothie, frozen blueberries come together with the fruit of your choice. To maximize the antioxidant potential of the smoothie, this recipe uses a ripe banana and nut butter for creaminess, instead of dairy. A study published in the March 2009 edition of the journal Free Radical Biology and Medicine found that milk inhibits the antioxidant activity of blueberries. In this study, healthy volunteers were given 200 grams (7 ounces) of blueberries with either 200 deciliters of water or 2 deciliters of milk. Only those who consumed the blueberries with the water had a significant increase in their plasma antioxidant capacity.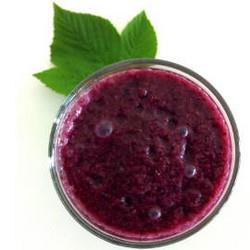 Ingredients
About 1 ⅔ cups water
1 ripe banana
⅔ cup frozen berries
1 cup chopped fruit of your choice
2 Tbsp nut butter of your choice
Directions
Rinse the frozen blueberries. Peel, trim, rinse and chop the other ingredients as needed.
Add 1 ⅔ cups of water to a large, high-powered blender, followed by the rest of ingredients.
Blend until thoroughly combined, adding more water if the smoothie seems too thick.
Pour into glasses, and serve immediately.
Six More Smoothies You Can Make with Frozen Blueberries
1. This banana and blueberry smoothie recipe pairs frozen blueberries with banana and orange to create a refreshing and nutrient-packed smoothie. This healthy vegan smoothie gets an additional nutrient boost from flaxseed, which is one of the best vegan sources of omega-3.
2. This avocado and blueberry smoothie packs an antioxidant punch, and thanks to the avocado it contains, this dairy-free smoothie has a wonderful creamy texture. This recipe also calls for chia seeds which are packed with omega-3 fatty acids.
3. One of the easiest ways to use kale is to incorporate it into smoothies, but pairing this green leafy vegetable with the right ingredients is key to making a kale smoothie that actually tastes good. In this kale and blueberry smoothie, the strong flavor of kale is toned down by pomegranate juice and frozen blueberries.
4. This quinoa and blueberry smoothie recipe uses frozen blueberries, cooked and chilled quinoa, and a fresh orange to create a delicious, nutrient-packed smoothie. Using quinoa in a smoothie is a great way to give a dairy-free smoothie a thicker consistency, a boost of fiber and minerals, and a kick of protein.
5. This berry-licious purple sweet potato smoothie is packed with anthocyanins, the flavonoid pigments that give many berries, including blueberries, and some vegetables, such as purple sweet potatoes, their deep color — and strong antioxidant properties.
6. This blueberry smoothie has a surprising ingredient: red cabbage juice. Red cabbage is supercharged with antioxidants, and by adding a small amount of fresh red cabbage juice to a smoothie, you can supercharge your blend without having to worry about an overpowering cabbage taste.
Book You May Like

Superfoods at Every Meal
is jam-packed with
extra nutritious recipes featuring 10 readily available superfoods
. Each recipe features at least two (but oftentimes even four or five) of the author's favorite superfoods: blueberries, quinoa, kale, chickpeas, sweet potatoes, eggs, honey, greek yogurt, coconut oil and walnuts. To learn more, or order a copy, go to
Amazon.com
,
Amazon.co.uk
or
Amazon.ca
.
Sponsored Links / Ads