Weekly Smoothie Challenge
Avocado Blueberry Smoothie with Chia Seeds
2 Servings
Creamy avocado comes together with frozen blueberries and fresh orange in this super-healthy smoothie. The chia seeds add invaluable omega-3 fatty acids to the mix. The Tweak It! section at the bottom of this page provides tips on how to whip up a new super-smoothie sensation for every day of the week (each day, replace the orange in the original recipe by one of the other ingredients in the Tweak It! box).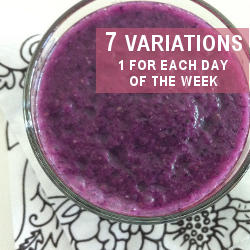 Ingredients
1 medium avocado
1 1/2 cups frozen organic blueberries
1 small orange
2 tsp chia seeds
1 1/2 freshly-pressed orange juice
Directions
Peel, pit, rinse and dice the ingredients, as needed.
Place the ingredients in a large-capacity blender, secure the lid, and blend until smooth and creamy.
Remove the lid, and check the consistency. If the smoothie is too thick for your taste, add a little bit of extra water, replace the lid, and blend until smooth. Serve immediately.
Tip: Enjoy a slightly different version of this Avocado and Blueberry Smoothie every day the rest of the week by each day replacing the orange in the basic recipe with one of the other ingredients listed in the Tweak It! box below.
Tweak It!
Day 1
Day 2
Day 3
Day 4
Day 5
Day 6
Day 7
1
orange
5 oz
kumquats
6
passion fruits
2
mandarines
1
apple
1
bell pepper
5 oz
fresh pineapple