In the Spotlight:
Freezer-Safe Glass Containers (No Plastic Lids!)
Freezing is a great way to preserve surplus food and lower your grocery bill. And, properly frozen vegetables are nutritious, versatile, and they taste good, too. On the hand, food that has been exposed to air in the freezer is less nutritious, plus it often looks, feels and tastes bad. To prevent this from happening, always store your vegetables and fruits in airtight packaging with as little air trapped inside as possible. Just keep in mind that if you're freezing foods with a high moisture content, you'll have to leave some headspace in the container as liquid expands when frozen.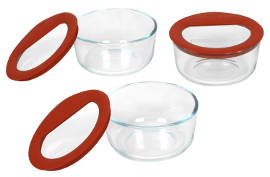 While freezer-safe plastic bags and containers can keep air from reaching your food, they are not a good choice for those who are trying to get plastic out of their lives. Luckily for those folks, there are plenty of alternatives available, with freezer-safe glass containers being the most obvious choice. However, for the most part, glass freezer containers and bowls come with plastic lids. But, there are some exceptions! Below, we take a look at some of the options you have if you want to buy freezer-safe glass containers with plastic-free lids.
Note that this article contains affiliate links, which means that if you buy a product using any of those links, the author of this article will receive a small commission (without any extra cost on your part).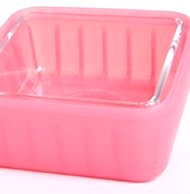 Glass Freezer Container with Silicone Lid (and Silicone Sleeve)
Frego's freezer-safe glass containers are encased in a silicone sleeve which helps protect the glass from breaking. Placed in the finals of the Tabletop category in the 2013 IHA Innovation Awards, these plastic-free containers are topped off with a double-seal silicone lid which helps prevent spills and leaks. In addition to being freezer-safe, these multi-functional containers made of borosilicate glass are oven-safe and dishwasher-safe, and thanks to their protective silicone sleeve and BPA-free components, they are also a great option for anyone looking for a safe and convenient lunch box. Whether you want to buy one of these multi-purpose containers, or whether you are simply interested in learning more, click on one of the following links:

Buy it here

Buy it here

Buy it here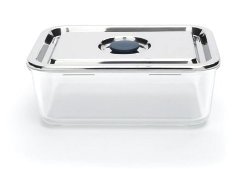 Glass Freezer Container with Stainless Steel Lid
This container is by no means the cheapest glass freezer container out there, but it does come with an elegant stainless steel lid and is made from high-quality materials. The container itself is made of durable borosilicate glass, and the lid is made of 18/8 stainless steel which is one of the safest materials for kitchenware. The BPA-free vacuum seal is made of silicone. In addition to being freezer-safe, this stylish container is also safe for use in the oven and the microwave, and it can be popped into the dishwasher for easy clean-up. For detailed information about the Amazon price and shipping costs for this product within the US, Canada or the UK, check out the following links:

Get it here

Get it here

Get it here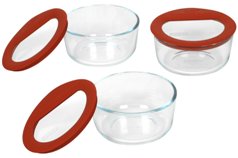 Freezer-Safe Glass Bowls with Silicone-Rimmed Glass Lids
Many people prefer rectangular freezer-safe glass containers over round ones because rectangular containers usually make the best use of freezer space. But if space is not an issue and you are looking for great value for your money, be sure to check out Pyrex' BPA-free, freezer-safe bowls with airtight silicone-rimmed glass lids (or freezer-safe mason jars if you are looking for something more compact). Like the freezer-safe containers reviewed above, these glass bowls are also oven-safe and dishwasher-safe, but they also have an added bonus: as the center of the lid is made of glass, you can see what's inside with just a quick glance! Check out the following links if you are interested in getting a set of these bowls:

Click here

Click here

Click here