Blueberry Spinach Smoothie with Camu-Camu Powder
Makes 2 servings
Smoothie fans rejoice! This smoothie recipe manages to use some of the healthiest fruits, berries and vegetables and still taste great! The banana this recipe calls for gives this vegan blend its wonderful creamy texture, while the blueberries lend a ton of antioxidants and other health-giving compounds. Nutrient-packed baby spinach, vitamin C rich camu-camu powder and anti-inflammatory flaxseed oil are added to the mix to give it an extra health kick. In addition to being super-healthy, this blueberry spinach smoothie is also a cinch to make, and all the ingredients, with the exception of camu-camu powder, are readily available. Also camu-camu powder is increasingly available in stores, especially health food stores, but you can also buy organic camu-camu powder online.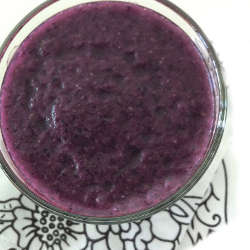 Ingredients
1 ripe banana
1 ½ cups frozen blueberries
1 ½ cups baby spinach
1 ⅔ cups water (approx.)
½ tsp camu camu powder
1 Tbsp flaxseed oil
Directions
Peel and slice the banana. Rinse the frozen blueberries and baby spinach.
Add the water to a large-capacity blender, followed by the banana, blueberries, spinach, camu camu powder and flaxseed oil.
Blend until thoroughly combined, adding more water if the smoothie seems too thick. Enjoy!
Don't Miss This

5 Tips for Buying the Freshest Ingredients
Five tips to help you find and buy the freshest ingredients on a regular basis.
More from HealWithFood.org
Book You May Like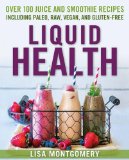 In
Liquid Health
, holistic health care practitioner and cookbook author Lisa Montgomery serves up a collection of
over 100 mouthwatering recipes for easy-to-prepare smoothies, juices and soups
. To accommodate people with special dietary preferences, each recipe is marked as belonging to one of more of the following diets: raw (R), paleo (P), gluten-free (GF), or vegan (V). Featuring beautiful color photographs and straightforward instructions, this inspiring recipe collection is available through
Amazon.com
,
Amazon.co.uk
&
Amazon.ca
.