Fruity Mango & Strawberry Smoothie
Makes 2 servings
Note: This recipe is not suitable for people who are allergic or sensitive to nuts.
Up your daily intake of antioxidants and vitamins with this yummy fruit smoothie! This vegan recipe combines the classic flavors of strawberries and apple with the more exotic taste of mango. Almond butter is added to impart a creamy texture to this healthy vegan smoothie.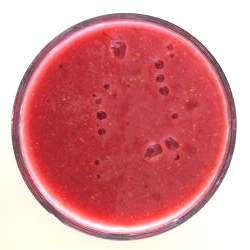 Ingredients
1 ½ cups water
1 cup diced mango
1 apple, rinsed, cored and diced
8 frozen strawberries, rinsed
2 Tbsp almond butter
Directions
Place the ingredients in a large-capacity blender in the order listed above. Blend until creamy.
Pour into glasses and serve immediately.
Don't Miss This

Personal Blender with Stainless Steel Travel Cup
Hamilton Beach's 51108 blender is one of the few compact blenders with a non-plastic cup.
More from HealWithFood.org
Book You May Like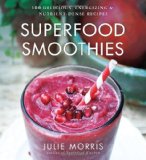 Stuck in a smoothie rut? There's no better place to look for inspiration than Julie Morris'
Superfood Smoothies
! Morris gives her vegan smoothies an extra health kick by using some of the most nutrient-dense natural ingredients on Earth. Hemp seeds, cacao nibs, maca, lucuma, açai berries, chia seeds, chlorella, and goji berries are a few examples of the newly rediscovered superfoods that frequently pop up in this fascinating cookbook. Available from

Amazon.com
and

Amazon.co.uk
.