How to Make a Winning Smoothie with Frozen Raspberries
There are a lot of healthy smoothie recipes out there that call for frozen raspberries, and there are many reasons why you might want to use frozen raspberries in your drinks. Not only do frozen raspberries make smoothies cold and refreshing without the use of ice cubes, they also add sweetness and irresistible berry flavor to smoothies. What's more, like their fresh counterparts, frozen raspberries are loaded with health-promoting compounds, and using them in a smoothie is one of the easiest ways to reap the wonderful health benefits of raspberries.

Read on to learn how to freeze fresh raspberries for later use in smoothies. This article also contains a basic recipe for a frozen raspberry smoothie that you can tweak to suit your taste buds.
How to Freeze Raspberries for Smoothies
The best way to freeze fresh raspberries for use in smoothies is to first pre-freeze them individually, and then pack them into freezer-safe bags or containers for actual storage. If you use this method, the berries will not form a giant clump of frozen food in the freezer, and you will able to grab just a handful of frozen raspberries for a smoothie from a freezer bag or container. What's more, processing individually frozen raspberries in a blender is easier than processing bigger pieces of frozen food.
Here's how to freeze raspberries for smoothies:
Line a baking sheet with parchment paper or a silicone baking mat that is freezer-safe.
Arrange the raspberries in a single layer on the sheet. Place the sheet in the freezer.
Once the raspberries are frozen, transfer them to freezer-safe bags or containers, and pop the bags or containers into the freezer.
Basic Recipe for a Smoothie with Frozen Raspberries
Makes 2 servings—This smoothie recipe pairs frozen raspberries with the fruit of your choice. You can use practically any fruit to add flavor and texture to this smoothie, but if you want to create a visually attractive blend, it is best to use red, yellow and orange fruits such as mango, pineapple, passion fruit, strawberries, apricots or pomegranate. The banana and nut butter this recipe calls for lend creaminess to the smoothie.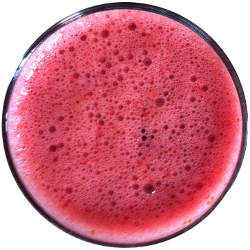 Ingredients
About 1 ⅔ cups water
1 medium banana
⅔ cup frozen raspberries
1 cup chopped fruit of your choice
2 Tbsp nut butter of your choice
Directions
Rinse the frozen raspberries. Peel, rinse and chop the other ingredients as needed.
Add 1 ⅔ cups of water to a large-capacity blender that can handle frozen ingredients, followed by the rest of ingredients.
Blend until thoroughly combined, stopping to scrape down sides of the blender and to check the consistency. If the smoothie seems too thick, add more water.
Pour equally into two glasses, and serve immediately.
5 More Smoothie Recipes with Frozen Raspberries
1. This Milky Raspberry Smoothie proves it doesn't have to be complicated to be delicious. All you need to whip up this delicious drink is a good blender and four simple ingredients: organic milk, banana, frozen raspberries and orange.
2. This Groundcherry and Raspberry Smoothie recipe is a guaranteed crowd-pleaser. In this vegan blend, creamy banana comes together with frozen raspberries and carotenoid-rich carrot juice to create a delicious, healthy blend. Fresh groundcherries, also known as cape gooseberries, are added to the mix for an invigorating twist.
3. This Berrylicious Smoothie has a secret ingredient: red cabbage juice. Red cabbage is loaded with antioxidants, and by adding just a few spoonfuls of fresh red cabbage juice to a smoothie, you can take the antioxidant powers of your blend to a whole new level without having to worry about an overpowering cabbage taste. The original recipe calls for frozen blueberries, but you can use frozen raspberries instead if you like.
4. This Apricot, Raspberry and Baobab Smoothie will delight both your body and your palate. In addition to apricots and frozen raspberries, this recipe calls for a ripe banana, which lends creaminess to this vegan smoothie, and flaxseed oil, which delivers a hearty dose of essential fatty acids. Baobab powder is added to the mix to give it an exotic twist—and a kick of vitamin C!
5. This Raspberry & Millet Smoothie is packed with nutrients and flavor. Naturally free of gluten and dairy, this frosty concoction contains frozen raspberries, cooked millet, banana, and antioxidant-rich acai berry powder.
RELATED BOOK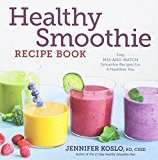 In
The Healthy Smoothie Recipe Book
, registered dietician Jennifer Koslo delivers tons of easy
mix-and-match ideas for crafting super-healthy smoothies
that also taste good. With chapters on detox smoothies, inflammation fighters, digestive aids, anti-aging concoctions, immune boosters, weight loss smoothies and more, there's something here for everyone. To learn more, or to order your copy today,
go to Amazon
.