Weekly Smoothie Challenge
Groundcherry, Raspberry and Carrot Smoothie
Serves 2
You're just a few minutes, a high-powered blender, and a couple of vitamin-packed ingredients away from a healthy fruit and veggie smoothie! This recipe pairs creamy banana with frozen raspberries and carotenoid-rich carrot juice to create an invigorating blend that's sure to please. Fresh groundcherries, also known as physalis or cape gooseberries, are added to the mix for an exotic twist, and the sunflower seeds ensure you also get a good dose of those essential fatty acids.
While any 100% pure carrot juice will work with this recipe, freshly-pressed carrot juice is recommended as it has the most intense flavor and a high nutrient content. So, if you have a juicer at home and don't mind the extra work, start by juicing carrots. For this smoothie, you will need about 3/4 cups of carrot juice, but you might want to create more juice while you are at it. You can store the extra carrot juice in the fridge for a couple of days.
Tip: If you have a lot of smoothie recipes that call for fruit and/or vegetable juices, you might want to consider getting one of the new all-in-one juicer-blenders, such as the Breville BJB840XL. Ideal for kitchens where space is at a premium, these dual-purpose gadgets can be turned from juicers into blenders, and vice versa, simply by changing the head.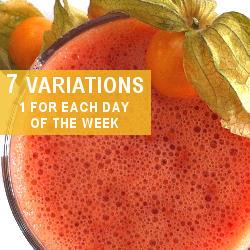 Ingredients
1/2 cup frozen raspberries
1 banana
2 oranges (Day 1*)
3/4 cup carrot juice
12 groundcherries
2 Tbsp sunflower seeds
Directions
Before preparing the other ingredients, take the raspberries out of the freezer, rinse them under cold running water, and let them thaw while you prepare the rest of the ingredients.
Peel the banana and oranges (if using), and break them into big chunks. If you're using another ingredient from the Tweak It! box below to replace the oranges, peel, core and chop the fruit as needed.
Remove the husks from the groundcherries, and wash the fruit carefully under cold running water.
Place all the ingredients in a high-powered blender, secure the lid, and process until smooth.
Remove the lid, and check the consistency. If the smoothie is too thick for your liking, add a little bit of water, replace the lid, and blend a few more seconds.
Check the consistency again, and repeat the previous step if needed.
Tweak It!
To keep things interesting, try tweaking the basic recipe above by replacing the oranges with one of the other ingredients included in the Tweak It! box below. The Tweak It! box contains seven ingredients, one for each day of the week!
Day 1*
Day 2
Day 3
Day 4
Day 5
Day 6
Day 7
2
oranges
2
small apples
3
kiwis
3
mandarines
6 oz
fresh pineapple
6 oz
mango
6 oz
papaya