Cherry and Sweet Potato Smoothie
Makes 2 servings
In this vegan smoothie, frozen cherries combine with purple sweet potato for a flavor-packed blend that's sure to perk your tastebuds and nourish your body. A ripe banana is added to the mix to give it extra sweetness and creaminess, while the ground flaxseed this recipe calls for ensures your body will also get plenty of minerals and omega-3 fatty acids.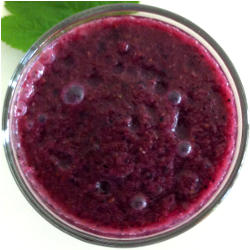 Ingredients
1 ripe banana
½ sweet potato (purple-fleshed)
⅔ cup frozen pitted cherries
About 1 ⅔ cups water
1 Tbsp ground flaxseed
Directions
Peel the sweet potato and cut it into chunks. Place the chunks in an electric stainless steel steamer (or a bamboo steamer) and steam for about 15-30 minutes until a fork goes through easily.
Let the sweet potato chunks cool down thoroughly, and peel the banana and rinse the frozen cherries.
Add the water to a high-powered blender, followed by the sweet potato chunks, banana, cherries and flaxseed.
Blend until thoroughly combined, adding more water to achieve the desired consistency. Enjoy right away.
Don't Miss This

Best Vegetarian Cookbooks for Meat Lovers
Going vegan or vegetarian? With these cookbooks you won't miss the meat!
More from HealWithFood.org
Book You May Like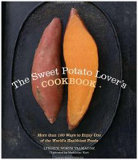 Presenting more than 100 ways to eat sweet potatoes, this 240-page cookbook is the
definitive guide to cooking and baking with sweet potatoes.
Covering everything from appetizers, soups, salads and breads to breakfasts, main dishes, sides and desserts, this extensive compilation of sweet potato recipes is a real treasure trove for anyone looking to incorporate this unassuming healthy tuber into his or her diet. Order this gem of a book though Amazon
here
(

US residents) or
here
(

Canadian residents). It is also available through Amazon's UK site
here

, but be aware that the recipes use American measurements.