5 Reasons to Use a Bamboo Steamer to Cook Your Vegetables
Bamboo steamers have been used in Asia for centuries for steaming foods like vegetables, poultry, meat, seafood, fish and dumplings. Today, this ancient cooking tool can be found in many U.S. households as well. Bamboo steamers are usually used with a wok, but can be used with a pot as well. Just fill the bottom of the wok with water up to a point where it hits the bottom of the steamer, and add start cooking your veggies!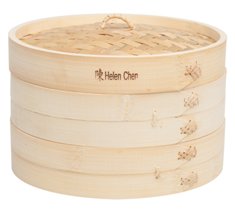 If you don't have a bamboo steamer yet, here are a five reasons why you might want to get one and start using it straight away:
1. Steaming Vegetables is Healthy
Boiling may be the most popular way to cook vegetables, but it's not the healthiest way because it allows nutrients to escape the food. Using steaming will help your vegetables retain their nutrients – and flavor – better. What's more, you won't need to use any oil or fat when cooking vegetables with a bamboo steamer. To make sure you don't overcook your veggies, check out this chart for steaming times of different vegetables.
2. Bamboo Steamers Are Fairly Inexpensive
Bamboo steamers are very affordable, and you can buy them online or in most department stores. Bamboo steamers typically range in price from $10 to $50. When buying a bamboo steamer, look for a sturdy quality steamer that has a tight-fitting lid (you don't want the steam to escape when you're steaming your veggies).
3. Hate Soggy Veggies? Use a Bamboo Steamer!
If you hate soggy veggies, you have yet another reason to use a bamboo steamer! Bamboo is a natural material that absorbs excess steam, so there is less moisture build-up on the inside. This in turn helps keep condensation from dripping onto your vegetables.
4. Bamboo Steamers Are Efficient
Most bamboo steamers have stackable layers with slatted bottoms. Such multi-level steamers are highly efficient as they allow you to steam multiple items simultaneously. Steamers with two or three tiers are the most common, but you can also find steamers with up to five tiers.
5. Bamboo is Eco-Friendly
Not only is using a bamboo steamer to cook your food good for you, it is also good for the environment. Bamboo is a natural, renewable material, and it requires very little to grow. Bamboo also grows very quickly, and unlike trees, it grows back after you cut it.
Don't Miss This

BPA-Free Electric Steamers for Vegetables and Other Foods
Looking for an electric multi-tier steamer that is free of BPA? Check out these tips.
More to Explore
Book You May Like

In
Steaming
, cookbook author and food consultant Brigid Treloar teaches you how to use a bamboo steamer to create everything from appetizers to desserts. Her focus is on healthy, quick-to-prepare dishes, and each recipe comes with step-by-step instructions. So, whether you're an accomplished cook or a complete beginner, you'll be able to enjoy cooking with your bamboo steamer and achieve great results! Available from
Amazon.com
,
Amazon.co.uk
&
Amazon.ca
.