Weekly Smoothie Challenge
Kiwi Honeydew Banana Smoothie
Makes 2 smoothies
Smoothies are a convenient way to get vitamins into your diet. In this vitamin-packed smoothie, kiwifruit comes together with honewdew melon, creating a refreshing blend that is full of vitamin C (both kiwifruit and honeydew melon deliver plenty of this immune-boosting vitamin). The pumpkin seeds in this smoothie deliver plenty of zinc, a trace mineral that helps the immune system strong and that is often used to help battle the common cold and flu. The frozen banana lends creamy texture and adds tons of vitamin B6 and potassium to this blend. And, as you are using a frozen banana instead of a fresh one, you won't have to add extra ice to make this smoothie refreshing.
In addition to all of the above, this Kiwi, Honeydew and Banana Smoothie recipe also calls for a fresh orange. However, in order to keep your taste buds intrigued, you might sometimes want to replace the orange with other fruits. For ideas and inspiration, check out the Tweak It! box at the end of the recipe.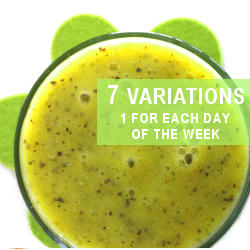 Ingredients
2 wedges honeydew melon
2 kiwifruit
1 small frozen banana
1 orange (or another ingredient from the Tweak It! box below)
2 Tbsp pumpkin seeds
1/2 cup cold water
Directions
Remove and discard the melon rind. Peel the kiwfruit, frozen banana and orange. Keep in mind that you can always replace the orange with any of the other ingredients listed in the Tweak It! box below. In that case, rinse, peel and core the fruit as needed.
Cut all the fruit into large chunks, and place them in a high-powered blender, together with the pumpkin seeds and water. Process until the smoothie looks nice and creamy.
Check the consistency. If the smoothie is too thick for your liking, add a little bit of water and blend a few more seconds.
Check the consistency again, and repeat the previous step if needed.
Tweak It!
To keep things interesting, tweak the original Kiwi, Honeydew Melon and Banana Smoothie recipe above by replacing the orange with one of the other ingredients included in the Tweak It! box below. The Tweak It! box contains seven ingredients, one for each day of the week!
Day 1
Day 2
Day 3
Day 4
Day 5
Day 6
Day 7
1
orange
1
small apple
3
passionfruit
3
apricots, pits removed
4 oz
fresh pineapple
4 oz
mango
4 oz
papaya