Avocado and Mango Smoothie with Chia Seeds
Makes 2 servings
Looking for an easy way to incorporate avocados into your diet? Try a smoothie. Avocados are a great addition to smoothies—they provide a wonderful silky texture to smoothies without an overbearing taste. In this smoothie, avocado joins forces with frozen mango for a creamy vegan smoothie that is packed with tons of nutrition and delicious flavor. Chia seeds, which are packed with minerals and anti-inflammatory omega-3 fatty acids, are added to the blend to further boost its nutritional value.

Cook's Note: Frozen mango chunks are widely available in supermarkets, but you can also make your own frozen mango chunks. When freezing mango at home, there are a few steps you will want to follow in order to avoid ending up with a brick of frozen mango that no blender will be able to handle: First, peel and dice the mango. Next, arrange the dices in a single layer on a parchment-lined baking pan, and place the baking pan in the freezer. Once the mango chunks are frozen, transfer them to freezer safe Ziploc bags or containers for later use in smoothies.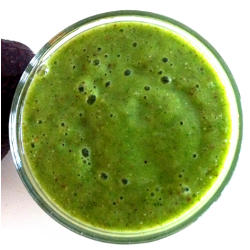 Ingredients
1 ⅔ cups unsweetened apple juice
1 avocado, peeled and pitted
2 kiwis, peeled
1 Tbsp chia seeds
1 cup frozen mango chunks
Water, as needed
Directions
Put the apple juice, avocado, kiwis, chia seeds and frozen mango chunks in a high-powered blender.
Purée until thoroughly combined, turning off the blender and pushing down on the ingredients with a spatula as needed to help the blending process.
Check the consistency. If the mixture is too thick, add water accordingly, and blend for a few more seconds.
Pour into glasses, and serve immediately.
Book You May Like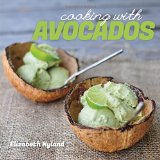 Cooking with Avocados: Delicious Gluten-Free Recipes for Every Meal
If you thought avocados are just for dips, think again. In
Cooking with Avocados
, recipe developer Elizabeth Nyland shows you how you can use this tropical "superfood" in everything from salads, smoothies and dips to ice pops, cakes and puddings. Available from
Amazon.com
,
Amazon.ca
&
Amazon.co.uk
.
Sponsored Links / Ads