Superfood Smoothie with Pomegranate, Rooibos and Acerola
Makes 2 servings
Think green tea is the ultimate super-drink when it comes to health-giving antioxidants? Think again! According to a study published in the Journal of Agricultural and Food Chemistry, commercial pomegranate juice beats green tea in terms of antioxidant activity. In this study, researchers measured the antioxidant activity of commercial pomegranate juice using four different methods (ABTS, DPPH, DMPD, and FRAP), and found that the antioxidant activity of the pomegranate juice was three times higher than that of green tea or red wine.
In this superfood smoothie, juicy pomegranate arils are paired with frozen blueberries, another excellent source of antioxidant compounds. To maximize the antioxidant properties of this smoothie, use wild blueberries if you can get them – research shows that wild blueberries have even stronger antioxidant properties than their cultivated cousins.
In addition to fresh pomegranate arils and frozen blueberries, this smoothie recipe calls for chilled rooibos tea, which adds even more antioxidants to this super-blend, and acerola powder, which is one of the most concentrated natural sources of vitamin C. A ripe banana is added to the mix to give it a wonderful creamy texture.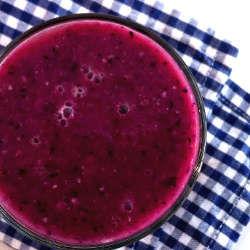 Ingredients
1 cup chilled rooibos tea
⅔ cup water (approx.)
1 ripe banana, peeled and sliced
1 cup fresh pomegranate arils
½ tsp acerola powder
⅔ cup frozen blueberries, rinsed
Directions
Put all of the ingredients in a high-capacity blender in the order listed above.
Blend until thoroughly combined, stopping to scrape down the sides of the blender and to check the consistency. If the smoothie seems too thick, add more water.
Pour into glasses, and serve immediately.
Don't Miss This

5 Tips for Buying the Freshest Ingredients
Five tips to help you find and buy the freshest ingredients on a regular basis.
More from HealWithFood.org
Book You May Like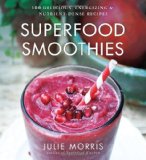 Stuck in a smoothie rut? There's no better place to look for inspiration than Julie Morris'
Superfood Smoothies
! Morris gives her vegan smoothies an extra health kick by using some of the most nutrient-dense natural ingredients on Earth. Hemp seeds, cacao nibs, maca, lucuma, açai berries, chia seeds, chlorella, and goji berries are a few examples of the newly rediscovered superfoods that frequently pop up in this fascinating cookbook. Available from

Amazon.com
and

Amazon.co.uk
.