Vegan Smoothie with Apple and Frozen Cherries
Makes 2 servings
Note: This recipe is not suitable for people who are allergic or sensitive to nuts.
Get your daily dose of fruit any time of day with this gorgeous Cherry & Apple smoothie! This recipe uses mineral-rich coconut water instead of yogurt as the liquid base, so it is perfect for those following a vegan diet. In addition to frozen cherries, apple and coconut water, this healthy vegan smoothie contains banana and cashew nut butter which bring a velvety, creamy texture to the drink.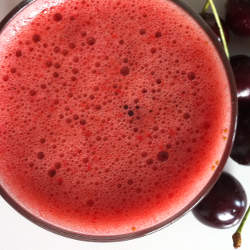 Ingredients
1 medium banana
1 apple
3.5 oz frozen pitted cherries
1 ½ cups coconut water
2 Tbsp cashew nut butter
Directions
Peel the banana and cut it into large chunks. Rinse, core and dice the apple, and rinse the frozen cherries.
Pour the coconut water into a high-powered blender, such as a Vitamix or the Breville VBL060, and add the banana, apple, cherries and cashew nut butter. Process until smooth. Serve immediately.
More to Explore

5 Vegan Cookbooks with Soy- and Gluten-Free Recipes
Check out these cookbooks if you are looking for soy-free and/or gluten-free vegan recipes.
More from HealWithFood.org
Book You May Like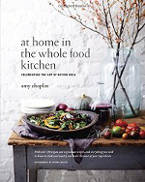 At Home in the Whole Food Kitchen: Celebrating the Art of Eating Well
is packed with mouthwatering recipes, beautiful photography and invaluable information on how and why to use specific ingredients. First published in 2014, it has received tons of great reviews, which is not surpring considering the author's background: Raised on a whole food diet by vegetarian parents in Australia, Amy Chaplin has years of experience working as a vegetarian chef in cities like Amsterdam, London, Sydney and New York. She is the former executive chef of New York's renowned vegan restaurant Angelica Kitchen, and she has worked as a private chef for Natalie Portman and Liv Tyler. This 400-page vegetarian cookbook is available through
Amazon.com
,
Amazon.co.uk
and
Amazon.ca
.