Breakfast Recipes for Preventing Canker Sores
Are you trying to find tasty breakfast recipes that use ingredients with canker sore preventing properties? In this section of our Guide to Preventing Canker Sores, you'll find recipes for delicious breakfast dishes that are naturally rich in canker sore combating components such as iron, probiotic bacteria, and folate.
Carrot Muffins
Yields 12 muffins
These delicious muffins are gluten-free and therefore suitable for people who are sensitive to gluten. In addition, these muffins provide plenty of iron which may provide protection against recurrent canker sores.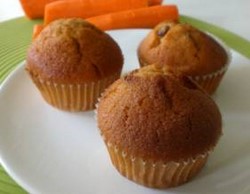 Ingredients
1 egg
1 cup rice milk
4 tbsp canola oil
2 cups quinoa flour or other gluten-free flour
1 tsp guar gum
1 tbsp flaxseed meal
3 1/2 tsp gluten-free baking powder
1/2 tsp salt
1 tsp cinnamon
1/4 cup brown sugar
1 cup organic carrots, grated
1/4 cup raisins

Directions
Preheat oven to 400 degrees F (200 degrees C, gas mark 6)Beat together egg, rice milk, and canola oil. Combine dry ingredients in a separate bowl. Add liquid ingredients to dry ingredients and mix until just blended (do not over-mix). Fold in grated carrots and raisins. Fill 12 paper muffin cups with batter (about two thirds full). Bake for 20 minutes.
Original Bircher Muesli
1 serving
Muesli was developed as a health food by the Swiss Physician Maximilian Bircher-Brenner towards the end of the 19th century. This is the original muesli recipe Mr Bircher-Benner recommended to his patients. Ingredients
1 tbsp rolled oats
3 tbsp water
1 tbsp sweetened condensed milk
2 tsp lemon juice
1-2 apples (including skin)
1 tbsp hazelnuts or almonds, ground

Directions
Combine oats and water and refrigerate overnight. Soaking improves the nutritional value of oats as it allows enzymes to break down and neutralize phytic acid, a compound that can block the absorption of many minerals in the intestines. Grate apples. Add them, together with sweetened condensed milk and lemon juice, to soaked oats. Stir well. Sprinkle with almonds or hazelnuts and serve.
Buckwheat Pancakes with Bananas
Serves 2
All key ingredients in this dessert — buckwheat, bananas, and brown rice syrup — are considered hypoallergenic, which means that they are very unlikely to cause allergic reactions in humans. This is great news for people who often get canker sores since food allergies and intolerances are believed to be the main cause of these little mouth ulcers. Ingredients
1 cup buckwheat flour
1 Tbsp brown sugar
2 Tbsp potato starch
1/2 tsp salt
1 tsp baking powder
1 cup rice milk
2 Tbsp canola oil
Vegetable cooking spray, for frying
2 large bananas, sliced
Brown rice syrup, to serve

Directions
Combine dry ingredients in a medium bowl. Add rice milk and canola oil, and whisk until well combined. If batter seems very thick, you may want add a little extra rice milk or water. Preheat a large nonstick skillet over medium heat. Spray with vegetable cooking spray. With a ladle, pour batter to the size you prefer. Even out batter on skillet with back of a spoon. Cook pancake on medium high heat for a few minutes until bubbles appear. Flip over and continue frying until cooked (a properly cooked pancake appears dense and not sticky when cut in the middle). Repeat previous step until batter is gone. Serve pancakes with banana slices and brown rice syrup.
Want More Recipes?
For more recipes that can help prevent canker sores, visit the main recipe directory of the Guide to Fighting Canker Sores.
You may also want to take a look at the section Diet for Preventing Canker Sores as well as the overview of the Best Foods for Preventing Canker Sores.