Salad Recipes for People with Canker Sores
Are you ready to learn how to create appetizing salads that are also in line with the nutritional requirements of people who are prone to getting canker sores, those painful little ulcers that affect the mouth? This section provides salad recipes that call for ingredients that provide significant doses of canker sore fighting nutrients such as folate and vitamin B12.
Tip: Before you unleash the culinary prodigy in you and explore the salad recipes below, make sure you have checked out the section best diet tips for preventing canker sores as well as the section best foods for fighting canker sores.
Smoked Salmon and Romaine Lettuce Salad
Serves 2
This salmon salad is a great dish for you if you frequently get canker sores. Half a filet of salmon (approximately 200 grams) contains more than the recommended daily value for vitamin B12. In one study, 58 people suffering from canker sores received either a dose of 1,000 mcg of vitamin B12 or a placebo. The number of ulcers, the duration of outbreaks as well as the level of pain associated with the sores decreased significantly after 5 months of treatment in the group who were given vitamin B12.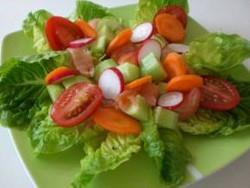 Ingredients
1 small head organic romaine lettuce
5 ounces smoked salmon, thinly sliced
2 tomatoes, diced
4 radishes, thinly sliced
1 organic carrot, diagonally sliced
1/2 cucumber, peeled and diced
Juice of half a lemon
1 tsp fresh ginger root, peeled and minced
1 tbsp canola oil

Directions
Arrange romaine lettuce on two plates. Top with salmon, tomatoes, radishes, carrots, and cucumber. Shake lemon juice, canola oil, and minced ginger in tightly covered jar. Pour over salad.
Beet and Carrot Salad with Ginger
Serves 1
Beets are cram full of folate and iron which are among the most important micronutrients for preventing and treating canker sores.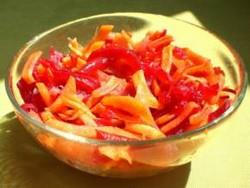 Ingredients
1/2 cup raw beets, peeled and grated
1/2 cup organic carrots, grated
2 tbsp apple juice
1 tbsp extra-virgin olive oil
1/2 tsp fresh ginger, minced
1/8 tsp sea salt

Directions
Combine grated beets and carrots in a small bowl. Mix apple juice, olive oil, ginger, and salt in a separate bowl and drizzle over salad mixture. Toss gently. Enjoy!
Want More Recipes?
For more recipes that can help combat canker sores, go to the main recipe directory of HealWithFood.org's Guide to Fight5ng Canker Sores.