Intuitive Eating: Principles and Benefits
December 28, 2018
Evelyn Tribole, MS, RD is an award-winning registered dietitian, bestselling author, former spokesperson for the American Dietetic Association, and former nutrition expert for Good Morning America. She has also appeared in hundreds of interviews, including CNN, NBC's Today Show, Fox News, USA Today, and People magazine.
Elyse Resch, MS, RDN, CEDRD, FAND, is a nutrition therapist with decades of experience in helping people develop a healthier relationship with food. She has published journal articles, print articles, and blog posts, and her work has been profiled on CNN, KABC, NBC, and USA Today, among others.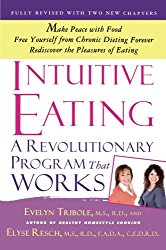 Back in the 90s, these two nutrition experts created the first edition of the book Intuitive Eating, which they hoped would help people break free from the yo-yo dieting cycle. The book became hugely popular, and in 2012, the third edition of Intuitive Eating was published. In 2017, Tribole and Resch released The Intuitive Eating Workbook, a supplemental workbook to help readers put the principles of intuitive eating into action.
But what exactly is intuitive eating, or mindful eating, as it is sometimes called?
In short, intuitive eating means ditching fad diets and developing a healthy relationship with food. Intuitive eating does not involve calorie counting or restricting certain foods, but there are some guidelines to follow. Known as the ten principles of Intuitive Eating, these guidelines form the core of this non-diet approach to healthy eating.
The Ten Principles
The ten principles from Tribole and Resch's book Intuitive Eating are:
Reject the Diet Mentality
Honor your Hunger
Make Peace with Food
Challenge the Food Police
Feel your Fullness
Discover the Satisfaction Factor
Cope with Your Emotions without Using Food
Respect your Body
Exercise—Feel the Difference
Honor your Health with Gentle Nutrition
Benefits of Intuitive Eating
Several studies have examined the health benefits of intuitive eating. In 2014, Julie Schaefer, MS, RD, and Amy Magnuson, PhD, RD, LD/N, published a review which summarized the findings of randomized controlled trials, quasi-experimental controlled trials, and prospective cohort studies that had been published on intuitive eating before December 2012. The authors searched for studies using terms like intuitive eating, mindful eating, non-diet, and attuned eating, and identified twenty interventions that were relevant. The review was published in the Journal of Academy of Nutrition and Dietetics.
Overall, the interventions had positive results, demonstrating improvements in eating habits, lifestyle, and body image. In six studies, overweight or obese participants who adopted the intuitive eating approach also achieved significant weight loss, and in most of the other studies, they maintained their weight. Several studies also assessed cardiovascular benefits, but the findings were inconsistent.
In addition, the programs that encourage intuitive eating approach generally led to improved psychological health as measured by depression, ineffectiveness, anxiety, self-esteem, negative affect, and quality of life.
What's more, the drop-out rates, which are often high in traditional weight loss programs, were very low in the intuitive eating groups. This seems to support the claim that intuitive eating is more sustainable in the long term than traditional weight loss programs. What's more, many of the observed improvements were sustained through follow-up periods as long as 2 years.