Recipe
Carrot Muffins
Yields 12 muffins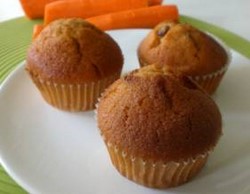 Ingredients
1 egg
1 cup rice milk
4 tbsp canola oil
2 cups quinoa flour or other gluten-free flour
1 tsp guar gum
1 tbsp flaxseed meal
3 1/2 tsp gluten-free baking powder
1/2 tsp salt
1 tsp cinnamon
1/4 cup brown sugar
1 cup organic carrots, grated
1/4 cup raisins
Directions
Preheat oven to 400 degrees F (200 degrees C, gas mark 6)
Beat together egg, rice milk, and canola oil. Combine dry ingredients in a separate bowl.
Add liquid ingredients to dry ingredients and mix until just blended (do not over-mix). Fold in grated carrots and raisins.
Fill 12 paper muffin cups with batter (about two thirds full). Bake for 20 minutes.