Salad Recipes for Preventing Colon Polyps
Looking for salad recipes that are particularly beneficial for people who are prone to developing colon polyps? We have you covered! This section provides a bunch of salad recipes that call for foods that boast nutrients like sulforaphane, betacyanin, fiber and omega-3 fatty acids. These nutrients have been shown to offer some protection against colon polyps.
Now, before you get started on these colon polyp preventing salad recipes, it may be a good idea to check out the page Diet for the Prevention of Colon Polyps and the page Foods That Prevent Colon Polyps for more general information about how diet can affect your risk of developing colon polyps.
Broccoli Salad with Apples and Cranberries
6 servings
Broccoli provides sulforaphane, a compound that has been shown to protect test animals' intestines from polyps. The cancer-fighting potential of raw broccoli — which this recipe calls for — appears to be particularly high: according to one study, cooking may destroy as much as 90% of sulforaphane.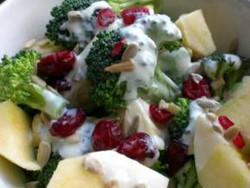 Ingredients
4 cups fresh broccoli florets
1/2 cup dried cranberries
1/2 cup sunflower seeds
3 organic apples
1/4 cup red onion, chopped
1 cup plain, low-fat yoghurt with probiotic bacteria
2 Tbsp Dijon style mustard
1/4 cup honey

Directions
Combine broccoli florets, dried cranberries, sunflower seeds, chopped apples, and chopped onion in a large serving bowl. Blend yoghurt, mustard, and honey in a small bowl. Add dressing to the salad and toss. Chill before serving.
Beet and Carrot Salad with Ginger
Serves 1
This recipe pairs beets with carrots to create a potent weapon for preventing colon polyps. The fiber found in abundance in beets and carrots reduces the time the stool spends in the intestines, thereby limiting the colon's exposure to potential carcinogens. In addition, several studies have shown that betacyanin, a phytochemical compound responsible for beets' intense purple color, is highly effective at fighting cancer, particularly colon cancer.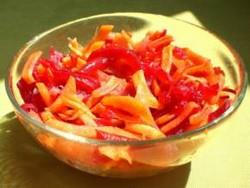 Ingredients
1/2 cup raw beets, peeled and grated
1/2 cup organic carrots, grated
2 tbsp apple juice
1 tbsp extra-virgin olive oil
1/2 tsp fresh ginger, minced
1/8 tsp sea salt

Directions
Combine grated beets and carrots in a small bowl. Mix apple juice, olive oil, ginger, and salt in a separate bowl and drizzle over salad mixture. Toss gently. Enjoy!
Salmon Salad
Serves 4
Salmon provides an excellent source of omega 3-fatty acids and the carotenoid astaxanthin, both of which are believed to have a protective effect against colon cancer. In addition, this salad contains plenty of red onion and capers which are among the best dietary sources of quercetin, a bioflavonoid that has shown promising potential for preventing and controlling the formation of intestinal polyps. Ingredients
2 large fillets (9 oz) wild salmon, either poached or grilled and chilled in the fridge until cool
1 cup cherry tomatoes, halved
2 red onions, sliced
1 tbsp capers
1 tablespoon fresh dill, finely chopped
1 tbsp balsamic vinegar
1 tbsp olive oil
1/4 tsp pepper, freshly ground
Pinch of salt

Directions
When salmon is cool, remove skin and bones. Break into chunks and add to a bowl. Add tomatoes, red onion, and capers. Toss. Mix vinegar, olive oil, and dill in a small bowl and add pour over salmon chunks. Toss again. Add salt and pepper to taste. Refrigerate for at least 30 minutes before serving.
Want More Anti-Polyp Recipes?
For more recipes that can help fight intestinal polyps, visit the main recipe directory of the Guide to Preventing Colon Polyps.