Recipes and Meal Ideas for Kidney Stone Prevention
Wondering how to cook up delicious meals that can also help your kidneys and urinary tracts stay free of kidney stones? The following recipes call for foods that store generous quantities of nutrients that may help prevent stone formation in some individuals. But before you get started on any of the recipes below, it may be a good idea to visit the page Kidney Stone Avoidance Diet and the page Best Foods for Kidney Stone Prevention which provide more general information about how diet can affect kidney stone formation.
Disclaimer: All information and recipes below and elsewhere on this website are provided for inspiration only. They have not been reviewed by medical professionals for correctness, and therefore, they are not intended to treat, cure, or prevent any disease or health problem.
Chocolate-Free "Chocolate Pudding"
If you are susceptible to developing kidney stones, you might have to limit the consumption of chocolate and cocoa products as they are rich in oxalates. But don't worry; you can still enjoy the wonderful rich texture of a "chocolate" pudding — as long as it's made with carob like this one! Carob flour, made from the pots of the carob tree, boasts a sweet, cocoa-like flavor but is low in oxalates. The millet featured in this kidney stone fighting pudding is rich in insoluble fiber which has been shown to reduce the risk of kidney stone formation.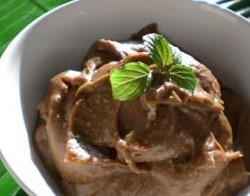 Ingredients
3/4 cup water
1/3 cup dates, chopped
1/8 tsp. salt
1/2 tsp vanilla
2 tbsp carob powder
1 1/3 cups hot cooked millet

Directions
Mix water and dates in a food processor, and process until smooth. Transfer to a saucepan and bring to a boil. Remove from heat, and add rest of ingredients. Blend until smooth. Chill and serve.
Apple Slices with Cinnamon
Serves 1
In Ayurvedic medicine, apples are commonly recommended to people with kidney stones. The purported benefits of apples may be linked to their high fiber content.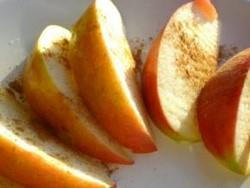 Ingredients
1 medium apple, cored and sliced
1/4 tsp cinnamon, ground

Directions
Place apple slices on a small serving plate. Sprinkle with cinnamon and serve immediately.
Stir-Fried Asparagus with Quinoa Noodles
Serves 4
Not only is this asparagus dish downright delicious, it also makes an excellent kidney stone fighting meal. The diuretic and alkaline properties of asparagus, as well as its high fiber content, are thought to help dissolve kidney stones. Ingredients
2 bundles asparagus, washed, trimmed, and cut into bite-size pieces
1 tbsp olive oil
3 tsp fresh ginger, minced
2 garlic cloves, slivered
1 tbsp soy sauce
1/2 tbsp sugar
3 1/2 tbsp vegetable stock
12 oz dried quinoa noodles
Directions
Heat oil in a wok and stir-fry ginger and garlic for a minute or two, then add asparagus.
Combine soy sauce, sugar, and stock in a small bowl and pour over asparagus. Simmer until asparagus is tender, about 3-5 minutes.
Cook noodles according to package directions and serve with stir-fried asparagus.
Apple and Carrot Salad with Goji Berries
Serves 4
In Ayurvedic medicine, apples are often recommended to people who have kidney stones. Also goji berries may be helpful as they are rich in fiber.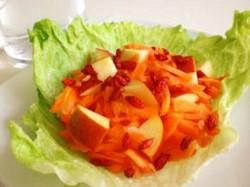 Ingredients
2 cup apples, diced
2 cup organic carrots, grated
1/2 cup Tibetan goji berries, soaked
8 tbsp apple juice
2 tsp fresh ginger, minced
4 tbsp extra-virgin olive oil
Lettuce leaves
Directions
Combine apple dices, carrots, and goji berries in a small bowl.
Mix apple juice, ginger, and olive oil in a separate bowl and drizzle over salad mixture. Toss gently and serve on lettuce leaves.
Green Pea and Fennel Risotto
Serves 3
This simple recipe helps you create a risotto that's full of flavor and nutrients. What's more, brown rice, green peas, and fennel bulb are rich in fiber which makes this dish great for those who are at risk of developing kidney stones. Ingredients
3 tbsp olive oil
1 fennel bulb, trimmed and chopped
1/4 lb frozen peas, thawed
1 garlic clove, minced
1 yellow onion, finely chopped
1 2/3 cups long-grain brown rice, uncooked
4 1/4 cups vegetable broth (allergen-free)
3 tbsp parsley, chopped
Salt and pepper
Fresh parsley, for garnish (optional)
Directions
Heat 2 tablespoons olive oil in a large saucepan and add chopped fennel, onion, and garlic. Cook, constantly stirring, until onion and fennel are softened but not browned. Add rice and cook for a few minutes, constantly stirring.
Add half a cup of broth. Cook, stirring occasionally, until almost all broth is absorbed. Add another half a cup of broth each time liquid is absorbed until all broth is used and rice is almost cooked (use water if you run out of broth towards end).
Add peas and chopped parsley and stir in remaining 1 tablespoon olive oil. Cook for a few minutes, constantly stirring. Season with salt and pepper to taste. Transfer to serving plates and garnish with fresh parsley. Serve immediately.
Quinoa Crepes with Applesauce
10-12 crepes
Foods with a low Glycemic Index (GI) rating, such as these quinoa crepes, help keep the blood glucose and insulin levels under control. This in turn promotes urinary citrate excretion and may therefore reduce the risk of calcium stone formation. Ingredients
1 1/2 quinoa flour
1/2 cup tapioca flour
1 tsp baking soda
1 tsp cinnamon
2 cup carbonated water
3 tbsp canola oil
3 cups unswtnd, organic apple sauce
Cinnamon, to taste
Directions
In a medium bowl, mix together quinoa flour, tapioca flour, baking soda, and cinnamon. Add water and oil and whisk until well combined.
Preheat a large nonstick skillet over medium heat. Add a few drops of canola oil.
For first crepe, pour about 1/3 cup of batter into skillet, rotating skillet quickly until bottom is evenly coated. Cook crepe on medium high heat until bottom is light brown. Flip over and briefly cook other side.
Repeat previous step until batter is gone. Serve with apple sauce.