Weekly Smoothie Challenge
Anti-Aging Smoothie with Strawberries and Millet
2 Servings
This smoothie recipe combines the sweetness of red grape juice and strawberries with the creaminess of millet and bananas to create a decadent concoction that's sure to please. Culinary benefits aside, this smoothie is also good for you! The red grape juice and strawberries it contains are loaded with flavonoids, beneficial phytochemicals that are thought to help prevent age-related diseases, such as cardiovascular disease, as well as other signs of aging, such as wrinkling of the skin. The millet this recipe calls for adds B vitamins, protein, and minerals to the mix, while the flaxseed boosts the fatty acid profile of this anti-aging smoothie by delivering healthy omega-3 fatty acids.
To keep things interesting, tweak the basic recipe by replacing the banana with one of the other ingredients provided in the Tweak It! box at the bottom of this page. The Tweak It! box contains seven ingredients, one for each day of the week.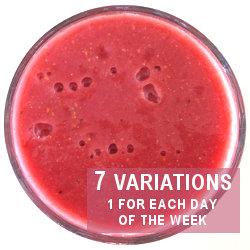 Ingredients
1 small banana (Day 1)
1 cup sliced organic strawberries
1/2 cup cooked, cooled millet
2 tsp ground flaxseed
Scant 1/2 cup crushed ice
1 cup red grape juice
Directions
Peel the banana and place it in a blender or food processor together with the rest of the ingredients.
Blend until smooth and creamy.
Pour into glasses, and enjoy immediately.
Tweak It!
Day 1
Day 2
Day 3
Day 4
Day 5
Day 6
Day 7
1
small banana
5 oz
mango
5 oz
pitted cherries
1 cup
blueberries
1 cup
raspberries
2
peaches, pitted
1
pear, cored