Zucchini "Noodles" with Avocado, Cherry Tomatoes and Pinenuts
Serves 1
There's probably no easier, healthier and more delicious way to prepare and serve zucchini than turning it into "zoodles". These grain-free imitation noodles made of 100% whole zucchini are popular among the Paleo folks and celiacs, but they are actually good for practically everyone as they are low in simple carbohydrates and rich in vitamin C.
The creamy avocado in this dish delivers tons of vitamin K and B complex vitamins (especially folate). It also contains the antioxidant vitamins C and E as well as glutathione, a "super-antioxidant" that helps other antioxidants, such as vitamins C and E, function properly. The antioxidants provided by the avocado, as well as the antioxidants supplied by the cherry tomatoes (these mini tomatoes are loaded with lycopene), help protect your body's cells from free radical mediated damage and may therefore help reduce your risk of developing certain generative diseases and conditions such as cancer, cardiovascular disease and varicose veins. Antioxidant nutrients – especially lycopene, vitamin C and vitamin E – also help keep your skin your smooth and youthful. Antioxidant protection aside, this Paleo-friendly and vegan "noodle" dish also supplies plenty of essential fatty acids (EFAs) thanks to the avocado and pine nuts it contains. EFAs help moisturize your skin from the inside, keeping it firm and supple, but these fatty acids also have many other important functions and health benefits.
The oleic acid in avocados and the pinolenic acid found in pine nuts, for example, appear to have appetite-suppressing properties, which is why this zoodle dish may also provide benefits for overweight and obese people (when eaten as part of an overall healthy weight loss diet).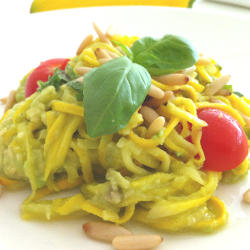 Ingredients
1 clove garlic
5 cherry tomatoes
Handful of fresh oregano and basil
1 avocado
1 yellow (or green) zucchini
1 Tbsp extra-virgin olive oil
1/4 cup water
Salt, to taste
1 Tbsp pine nuts
Directions
Peel and mince the garlic, and set it aside while you prepare the rest of the ingredients. Preparing garlic first helps improve the health-giving properties of this dish as allicin, the key active compound in garlic, takes some time to form after peeling and chopping.
Rinse the cherry tomatoes and the herbs. Halve the tomatoes and chop the herbs, then set them aside.
Peel the avocado and remove the pit, then place in a small bowl and mash thoroughly with a fork. Set aside.
Wash the zucchini under cold running water, and cut it into long, thin noodle-shaped strips ("zoodles") using a good julienne slicer or a sturdy vegetable "pasta" maker (aka spiralizer). Set the strips aside.
Heat the extra-virgin olive oil in a skillet and saute the minced garlic over medium heat for 1 minute. Add the zucchini strips and continue to saute for another minute or two, stirring frequently to avoid sticking.
Add the water and continue cooking for 4 more minutes, stirring occasionally.
Remove the skillet from the heat, and let the zoodles cool slightly. Stir in the mashed avocado, halved cherry tomatoes, chopped herbs and salt, and transfer to a plate. Top the dish with the pine nuts and enjoy immediately.
Sponsored Links / Ads
Don't Have a Spiralizer, Yet?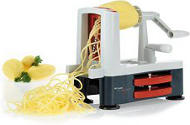 Vegetable noodle makers or spiralizers – such as
Westmark's Spiral Slicer
pictured on the right – turn hard veggies like zucchini and potatoes into thin, noodle-like strips. Pleasing to the eye and easy to eat, these vegetable strips are more likely to become a hit among picky eaters – big or small – than vegetables served in more conventional forms. To learn more, see:

Where & Why Get a Vegetable Spiralizer