Red Camargue Rice: Where to Get it in the UK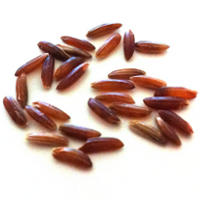 Red camargue rice is a French gourmet rice with a nutty flavor and a brownish red pericarp. Known as riz rouge de Camargue in France, this red gourmet rice from Provence is today available in many specialty food stores across the UK. If you cannot find authentic red camargue rice in the stores near you, you can also order this French gourmet grain online. Buying camargue rice online may be a particularly smart move if you have a big family or crowd to feed, as online shops often have special prices for consumers interested in buying their products in bulk. Depending on where you live in the UK, it may also be your only chance of getting organic camargue rice as organic production only accounts for a small part of the overall production of this gourmet grain in France.
Below you find an overview of a few products you may be interested in if you're looking to buy French camargue rice in the UK. (Tip: If you live in the US check out the article Where to Get French Red Rice in the US.