Salad Recipes for Fighting Bloating
Enjoy these mouthwatering salads — they can help reduce water retention dramatically and prevent bloating as they are loaded with anti-bloating nutrients and phytochemicals such as potassium and zingibain.
Beet and Carrot Salad with Ginger
Serves 1
Beets are rich in potassium. Potassium counterbalances sodium, which causes water retention and bloating, and has diuretic properties. The fresh ginger in this salad is an age-old remedy for bloating.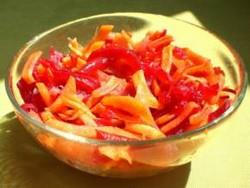 Ingredients
1/2 cup raw beets, peeled and grated
1/2 cup organic carrots, grated
2 tbsp apple juice
1 tbsp extra-virgin olive oil
1/2 tsp fresh ginger, minced
1/8 tsp sea salt
Directions
Combine grated beets and carrots in a small bowl.
Mix apple juice, olive oil, ginger, and salt in a separate bowl and drizzle over salad mixture. Toss gently. Enjoy!
Ginger and Cucumber Salad
Serves 4
Ginger, one of the oldest spices in the world, is known to have been used in China as early as 400 B.C. Although probably best known for its cold treating powers, ginger is also well known for its ability to alleviate symptoms of gastrointestinal distress and is commonly used for eliminating intestinal gas and reducing bloating. Ginger contains zingibain, a protein digestive enzyme, and is therefore particularly effective at preventing gas caused by protein rich foods. Also the mint in this salad helps promote the health of the gastrointestinal tract.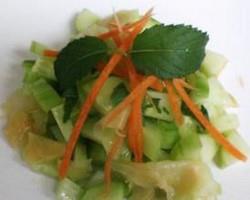 Ingredients
2 cucumbers, diced
2 tbsp rice wine vinegar
1 tsp agave nectar
1 tbsp canola oil
1/3 cup pickled ginger, drained
Chopped mint leaves, to taste
Salt to taste
Directions
In a medium bowl, combine diced cucumbers and ginger.
Whisk together vinegar, agave nectar, canola oil, and mint leaves. Pour over cucumbers and ginger. Toss and season with salt. Let marinate refrigerated for 3 hours.
Divide onto plates, and garnish as desired.
Want More Anti-Bloating Recipes?
For more recipes that can help you control bloating, visit the main recipe directory of this Guide to Beating Bloating.
For more information about nutrition and bloating, check out How to Reduce a Bloated Stomach Naturally (the home page of this anti-bloat guide). Be also sure to take a look at our collection of the best anti-bloat diet tips as well as the food section (Best Foods for Reducing Bloating) of this guide.